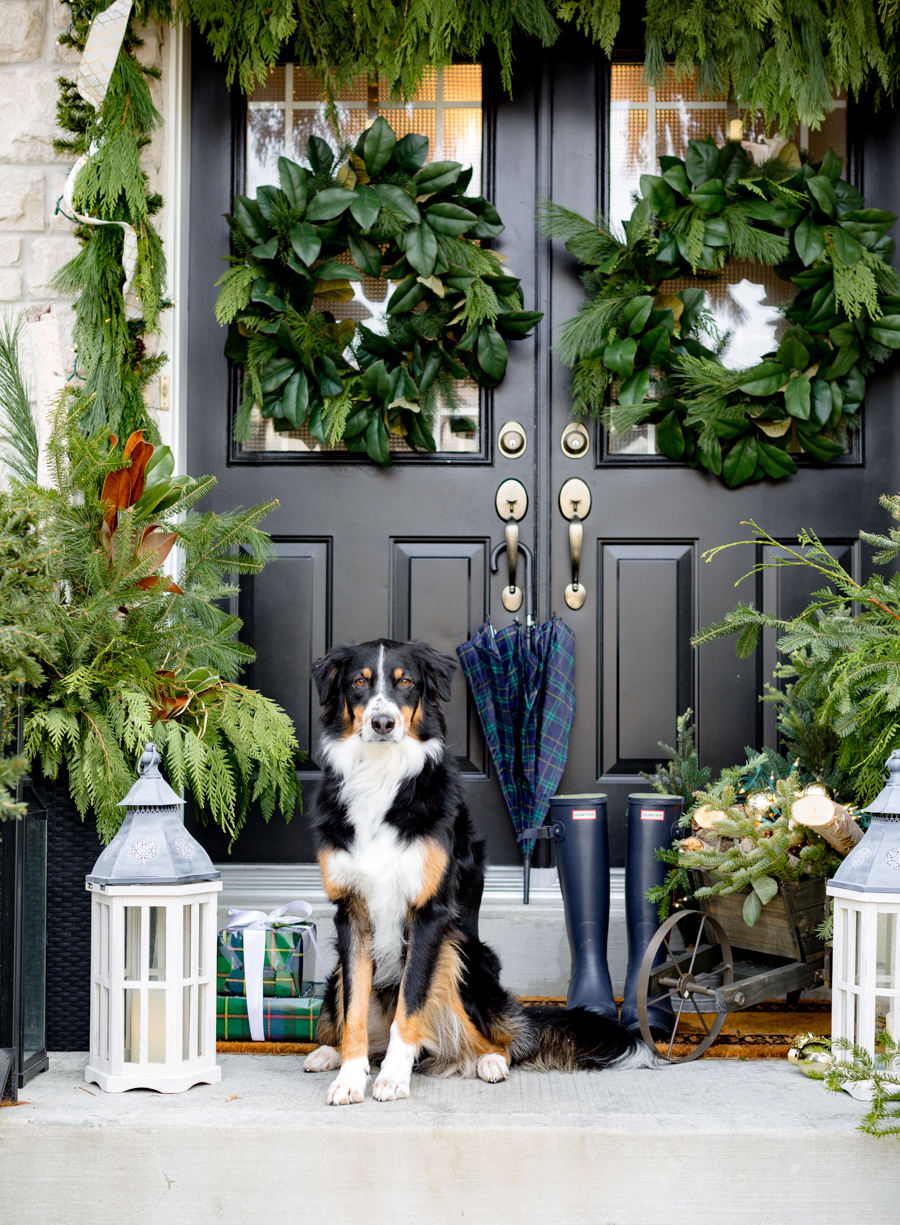 Hello friends I hope you've had a great week so far. I can't believe that it's Wednesday already and Christmas is only 19 days away.  They say that as you get older time seems to go by faster and faster and I guess it's true.
Do you remember being a child and having to wait for your birthday or Christmas and it seemed like an eternity? Nowadays, the days turn into weeks and into months in no time.
Seeing how fast time is going has me craving family time. So I promised myself I would work as hard as possible this week so I can truly enjoy the rest of the season without deadlines and with lots and lots of painting.
I'm also  dreaming of having spare time to clean the house top to bottom and FINALLY tackle the basement which seems to explode around this time of year.
But for today, I want to welcome you to our home once again for a little Christmas tour. This time, I'm joining some of my Canadian blogger friends.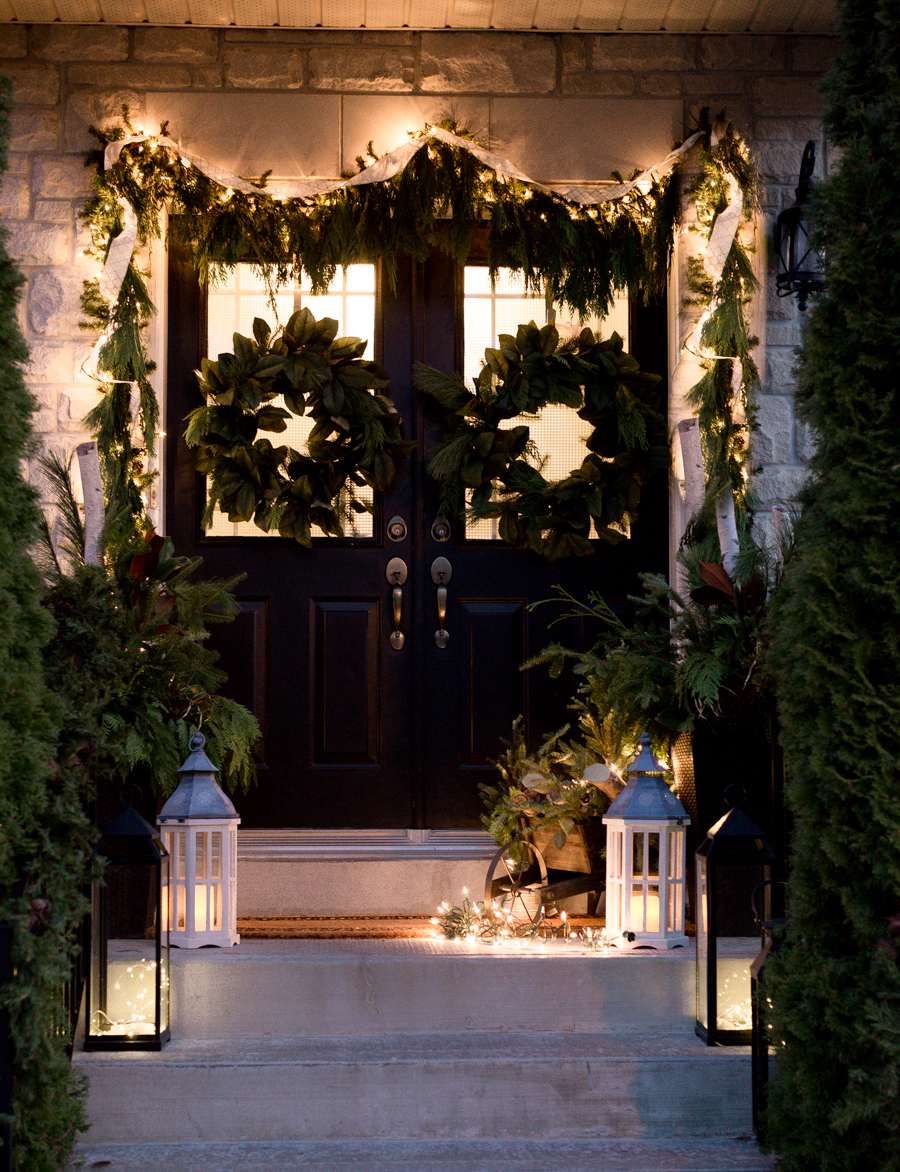 You can see more of my front porch HERE.
During the past few weeks I have shared several peeks into our home all decorated for Christmas…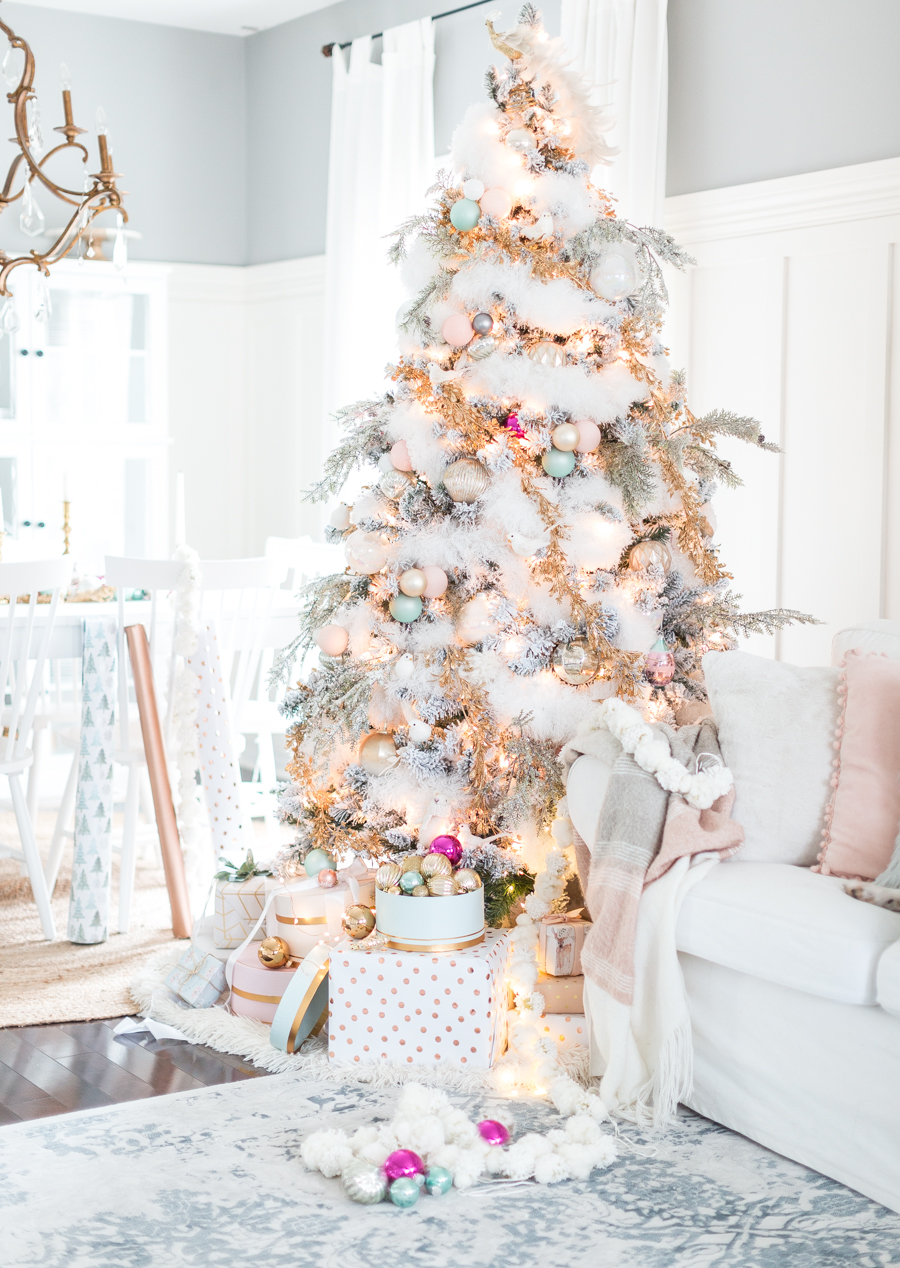 You might have seen my pastel Christmas tree…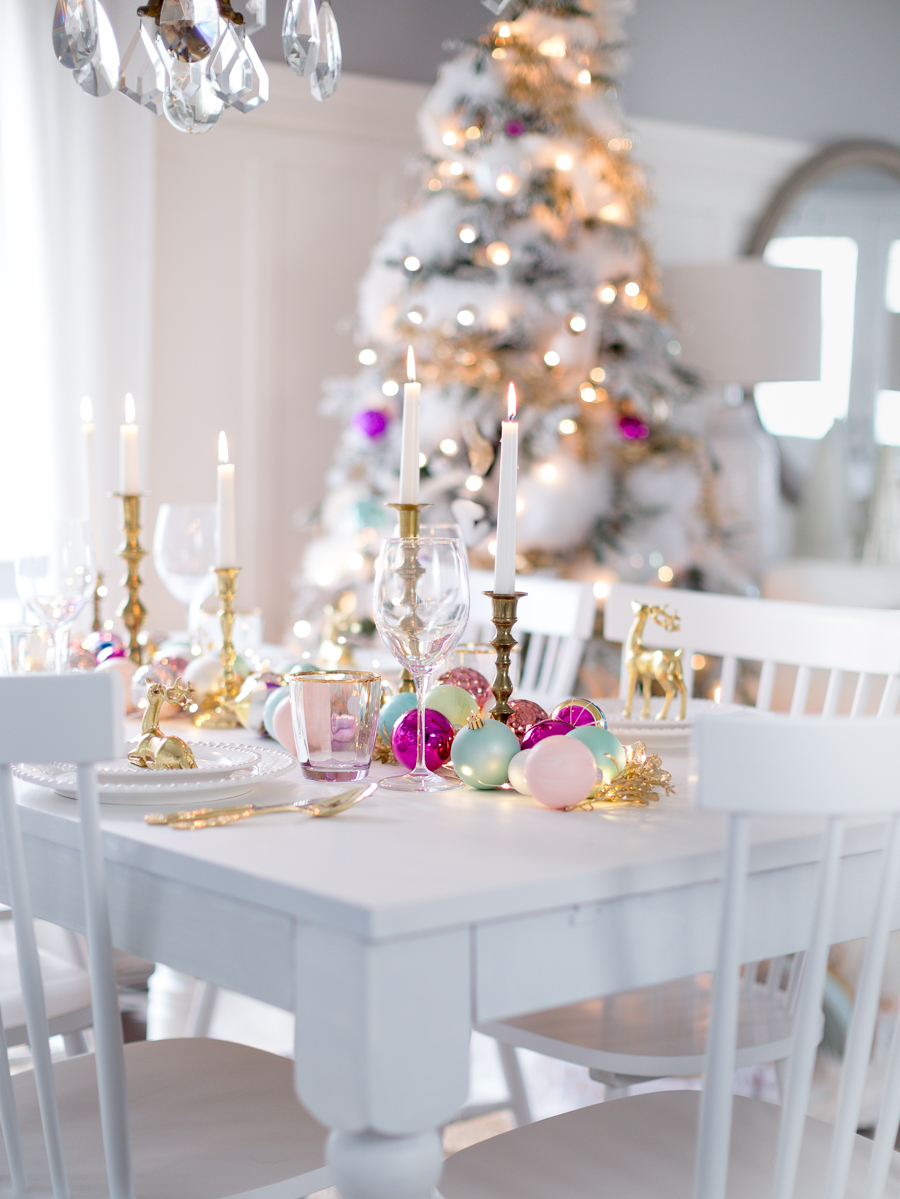 The festive tablescape…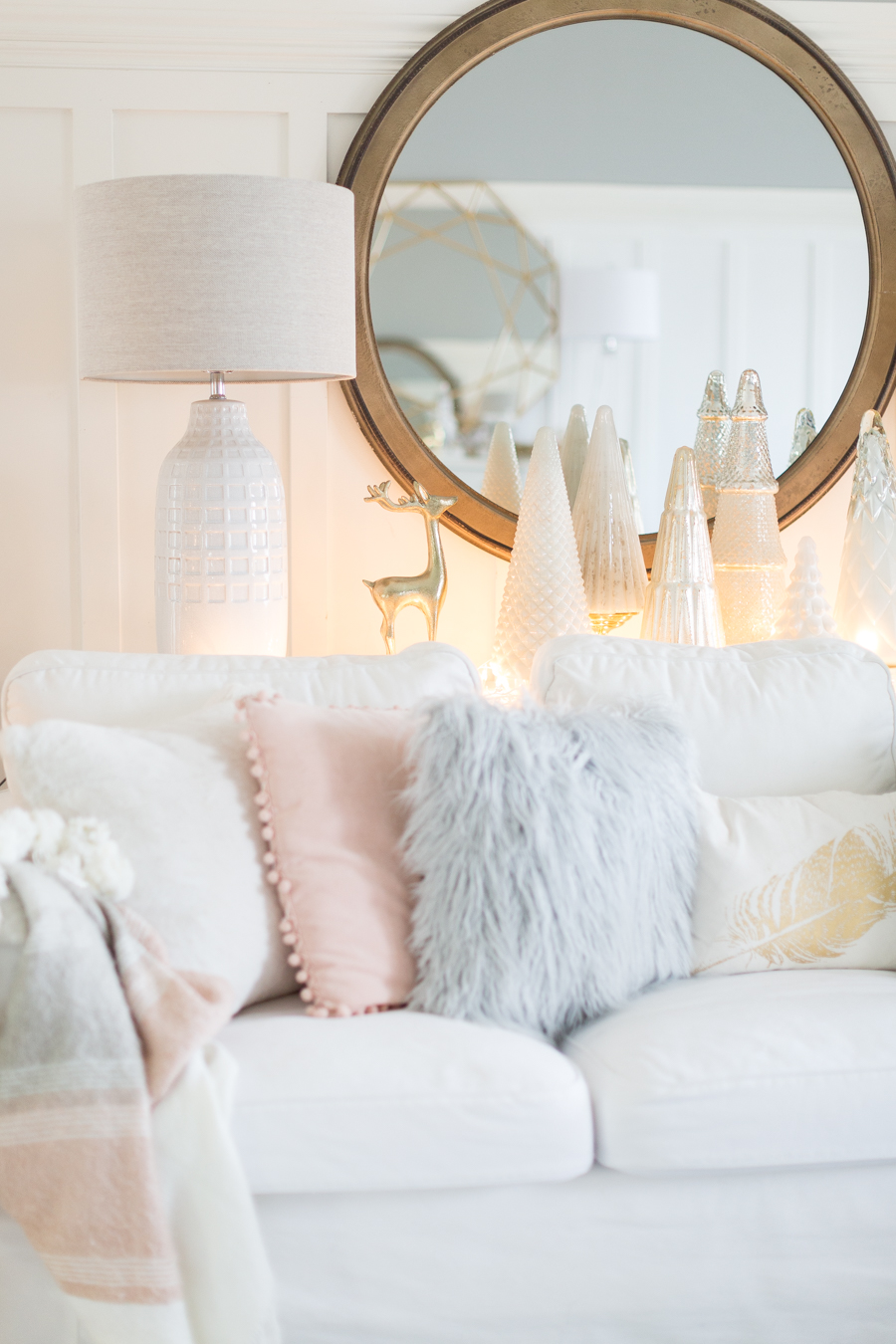 And the Holiday Housewalk.
Well, today I have a little surprise as I decided to start from scratch.
Yep, you heard that right. Even though I really loved the soft pastel colors with the flocked tree and I thank you so, so very much for all the kind words I received in regards to it;
I was just not really feeling it. I kept fidgeting with it, taking things away, putting them back. Each time I walked by the beautiful pastel tree, I'd think how pretty it was but it wasn't making my heart sing.
I think it had something to do with the fact that there was no cohesiveness from one room to the next and also I've had my flocked tree for four years and it felt like it was time for a change.
So one late afternoon, I decided that I would just go for it and take the tree down and put up a new tree…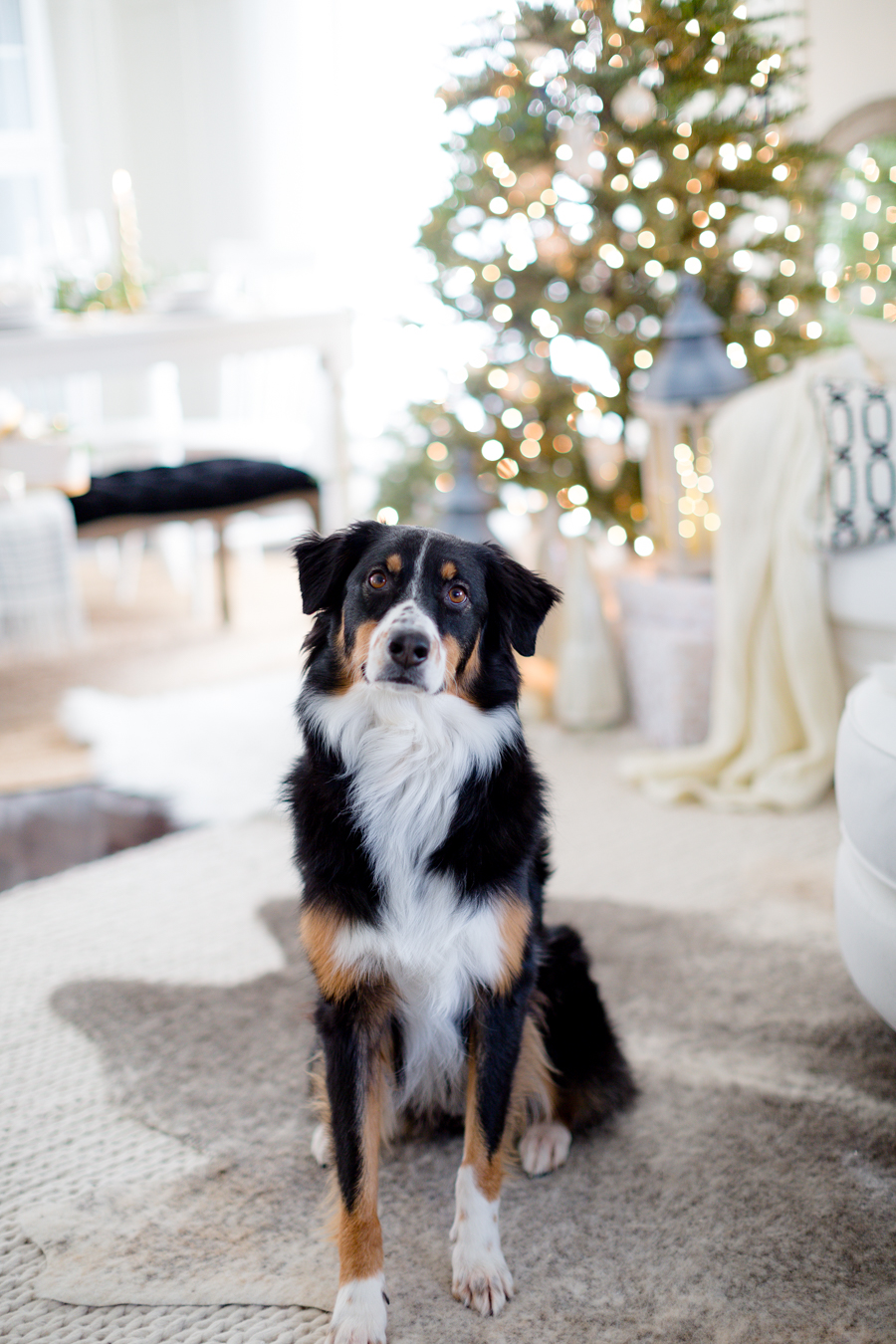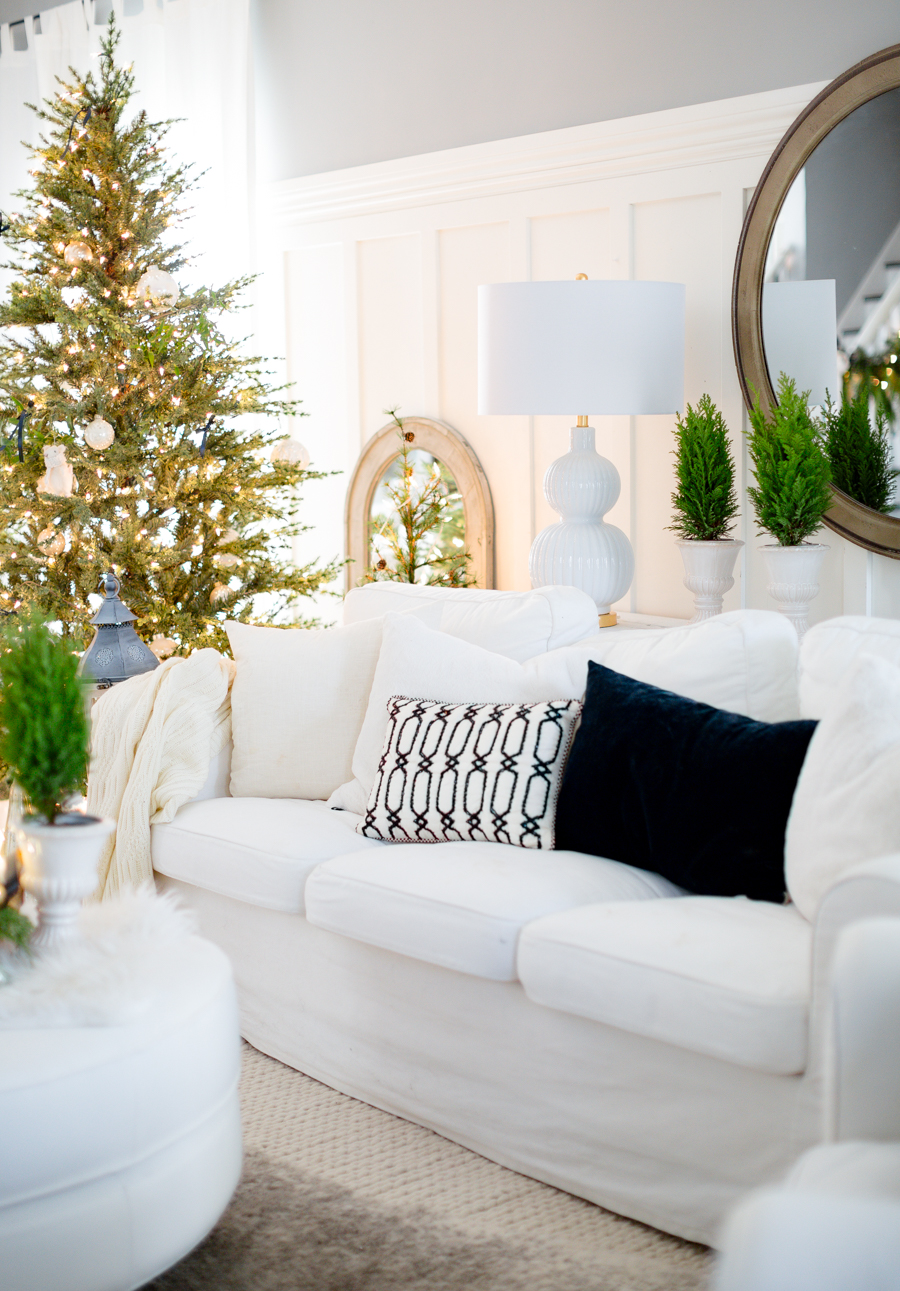 I moved a lot of things around and you know what? I love it.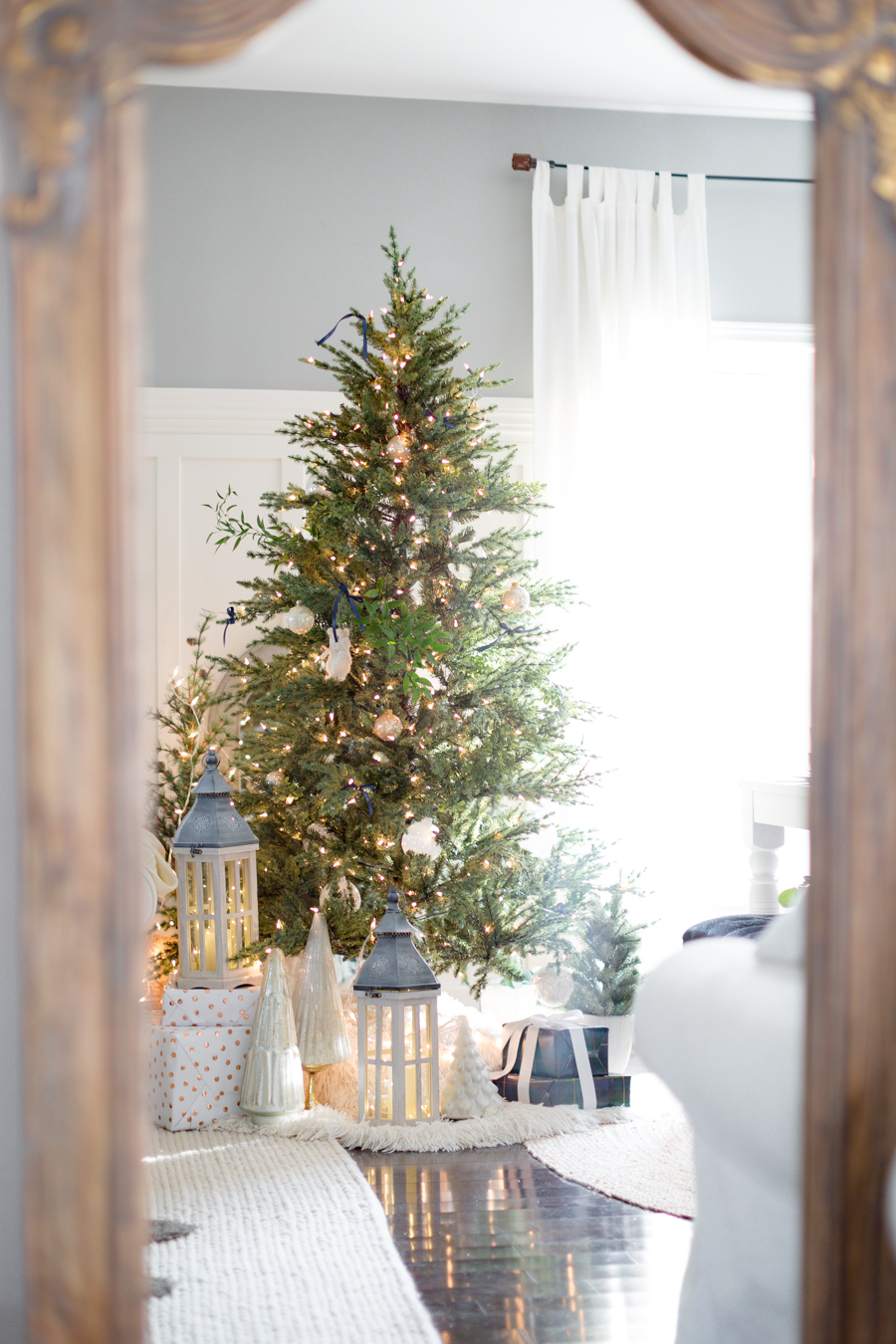 I went in a completely different direction with this almost naked  Jasper-Fir tree from Canadian Tire.  I love how real it looks and I honestly didn't want to fill it with ornaments so a few scattered here and there is all I wanted on it.
UPDATE: there are no ornaments on the tree as we speak. ha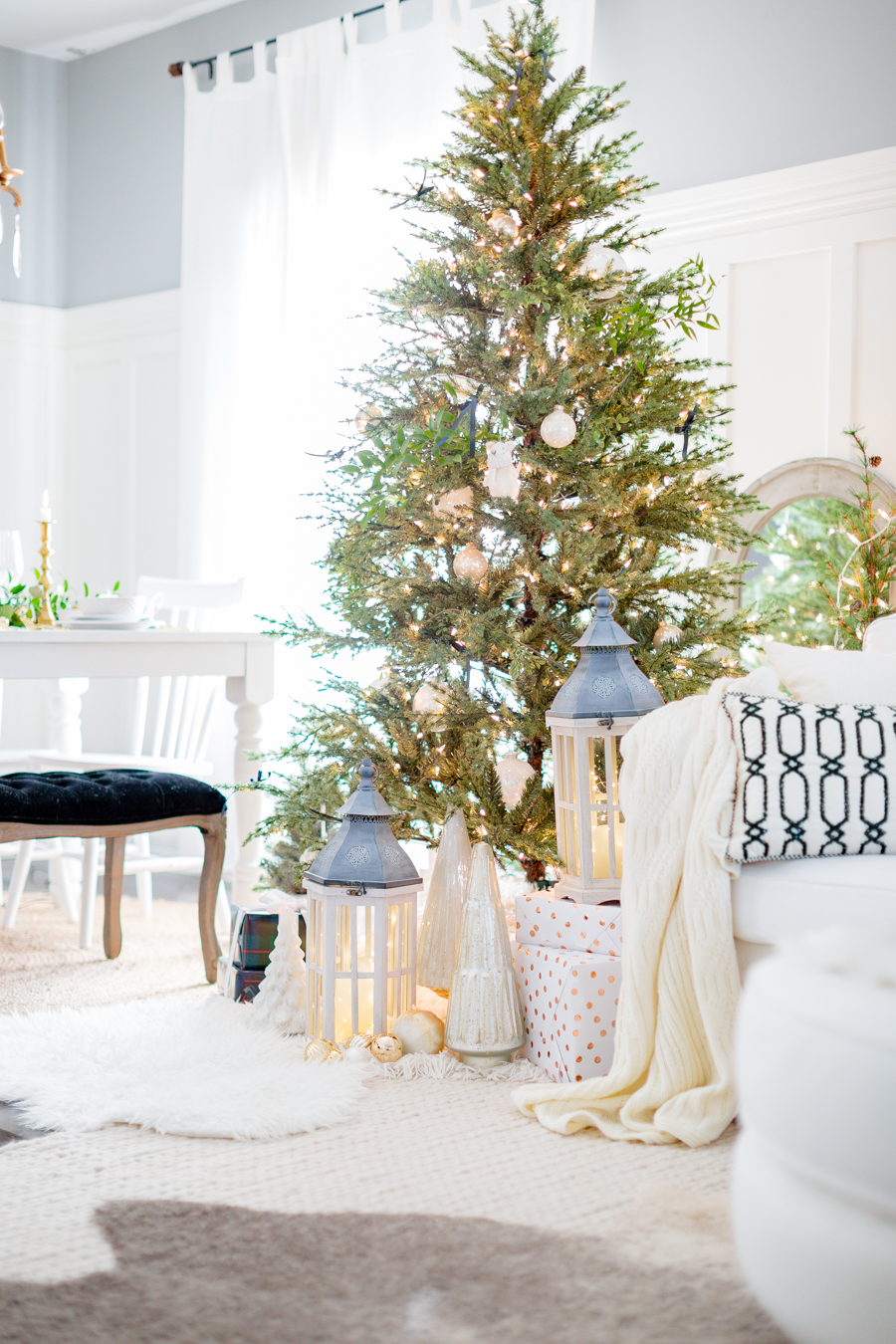 I still love the idea of having some fur and a snowy feeling around the tree so I did placed some faux throws and rugs around the base…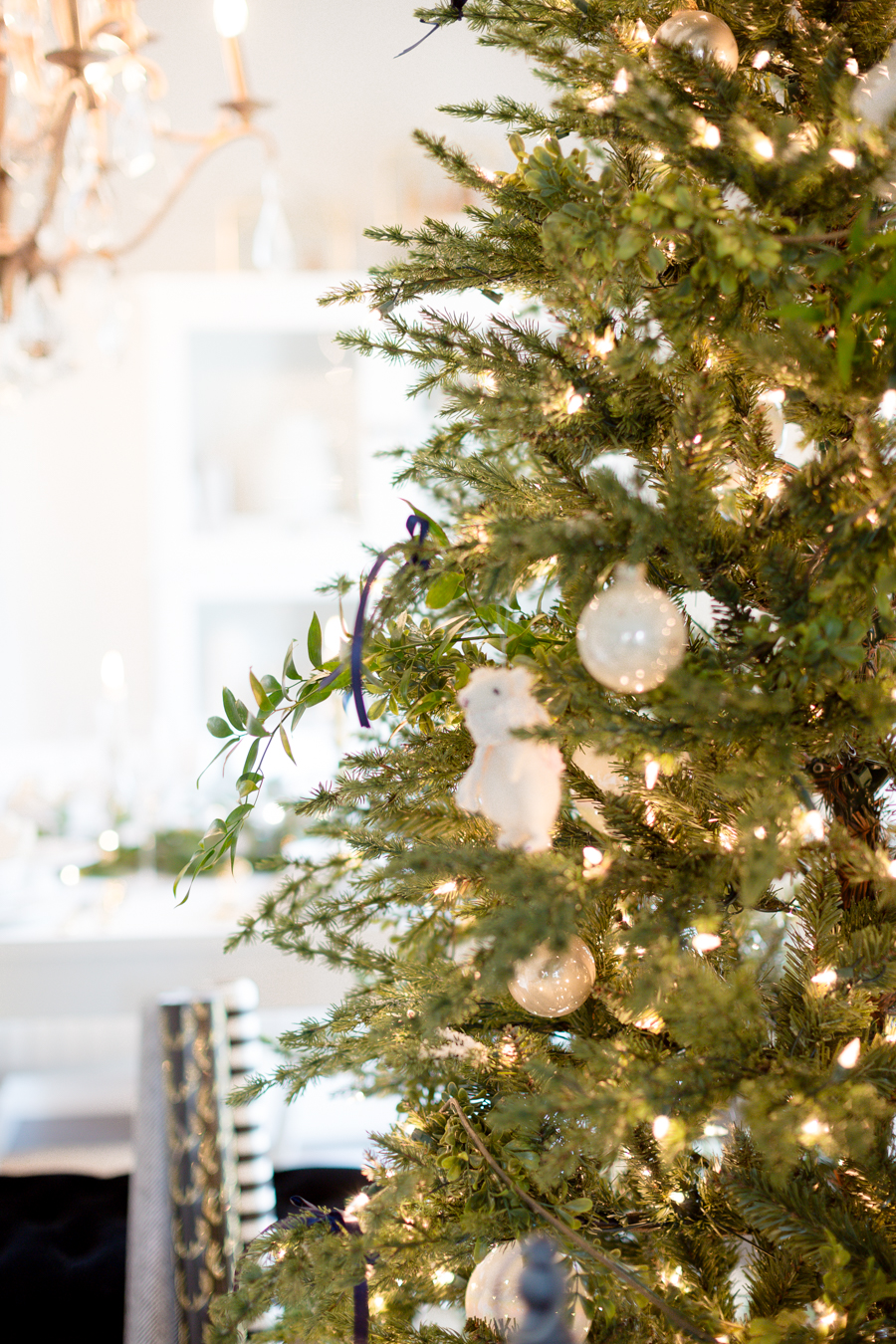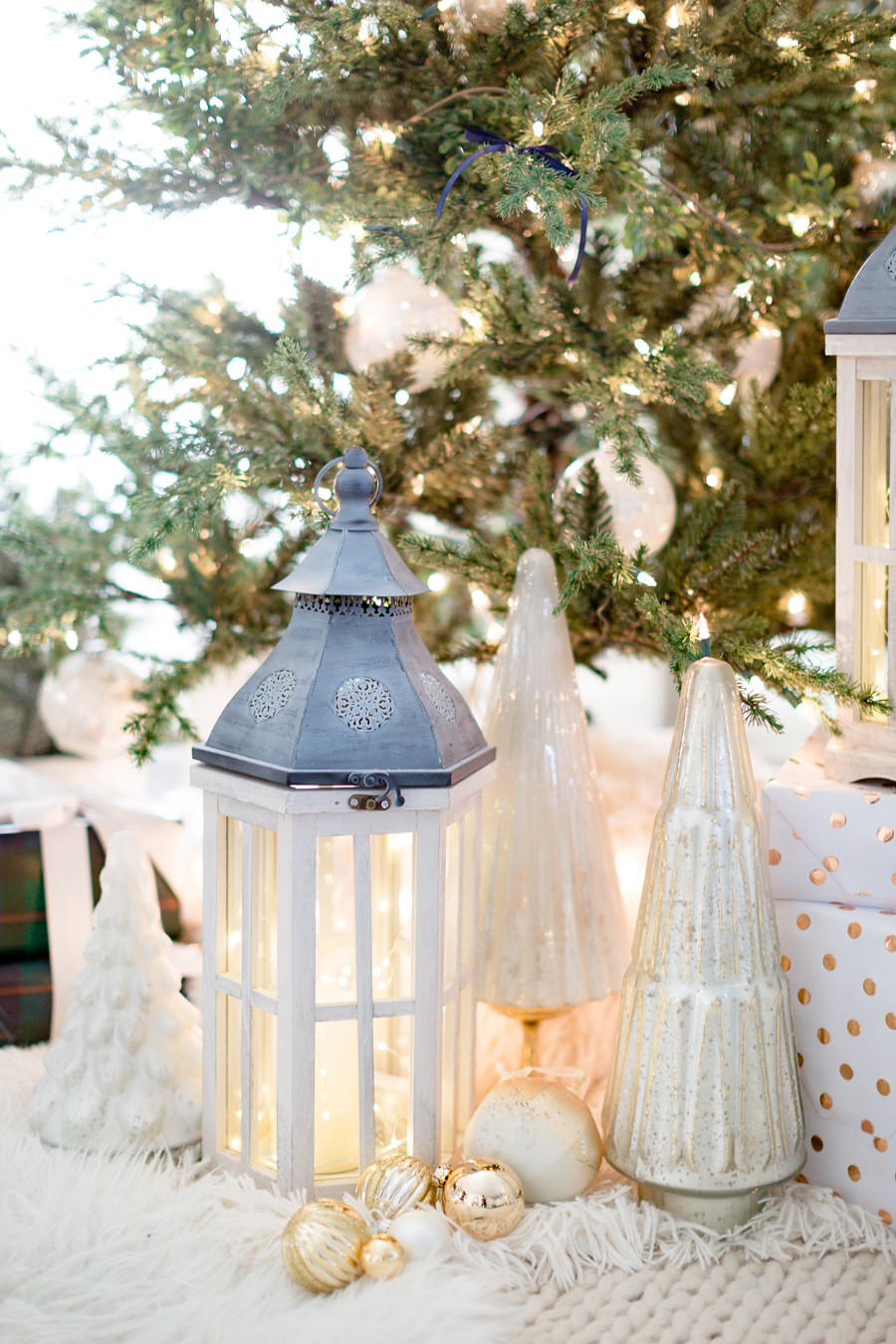 You might recognize these pretty lanterns I used HERE. I moved them inside and I love how the add an extra layer of sparkle to the tree.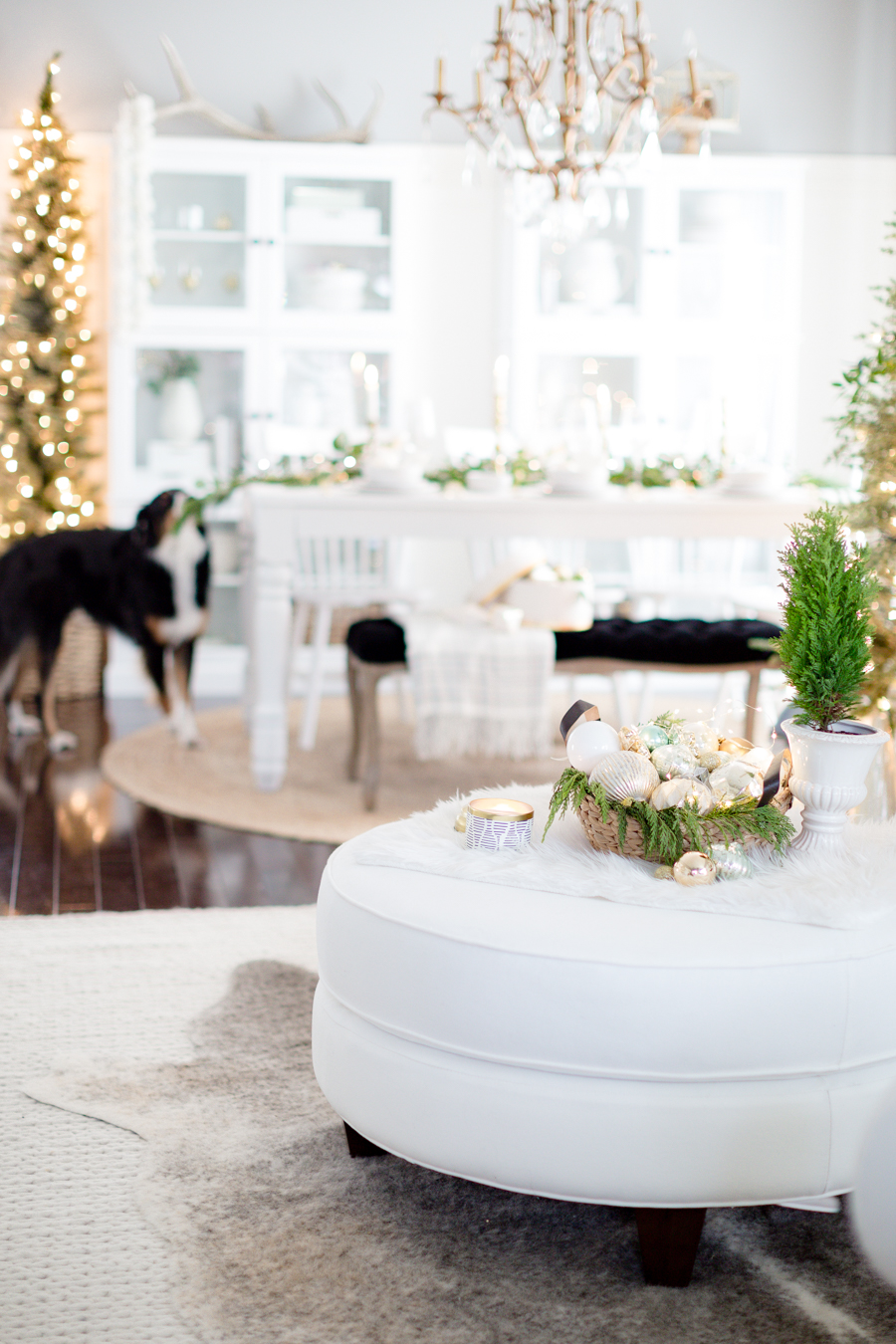 I also moved both the rugs and the ottoman from our family room ….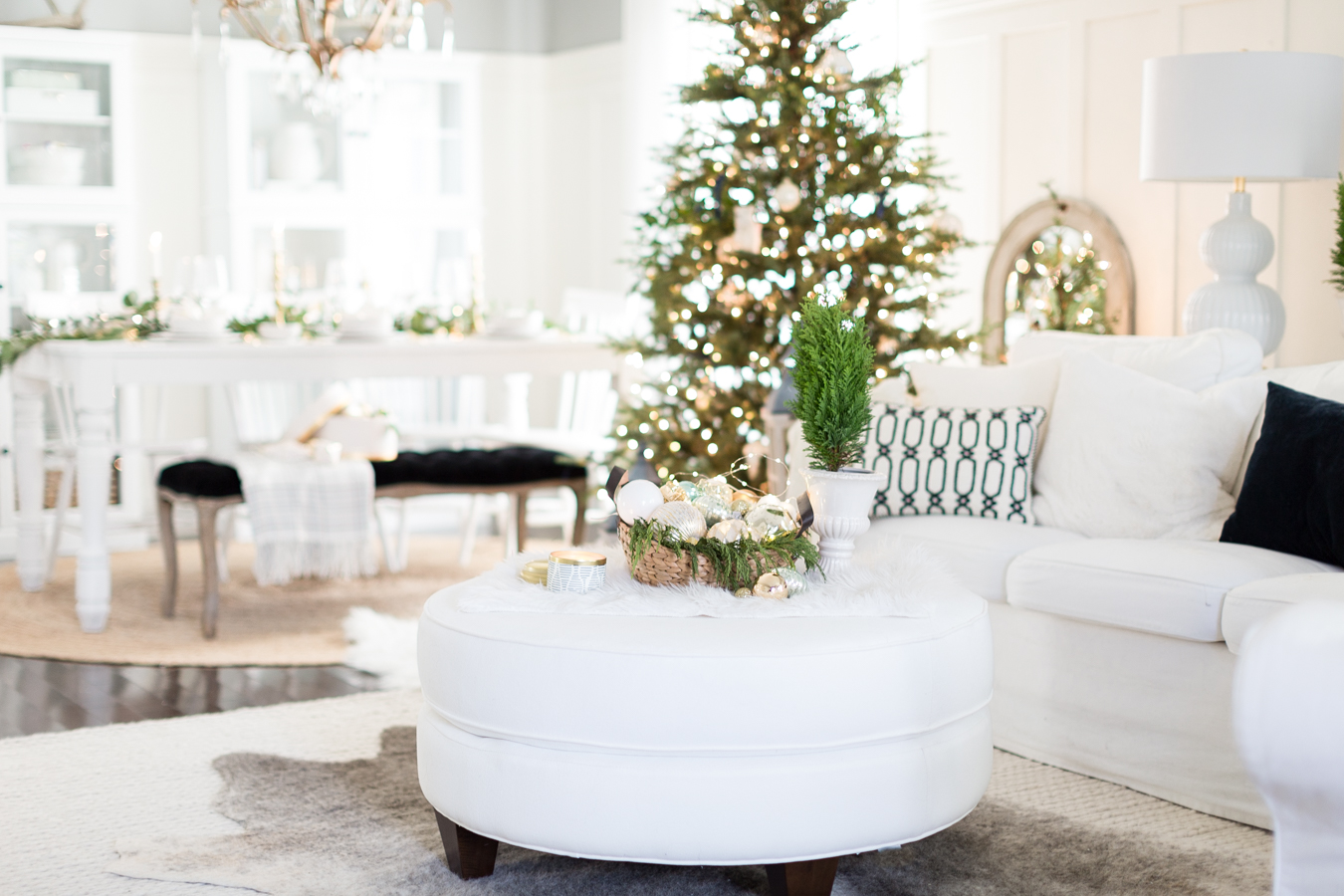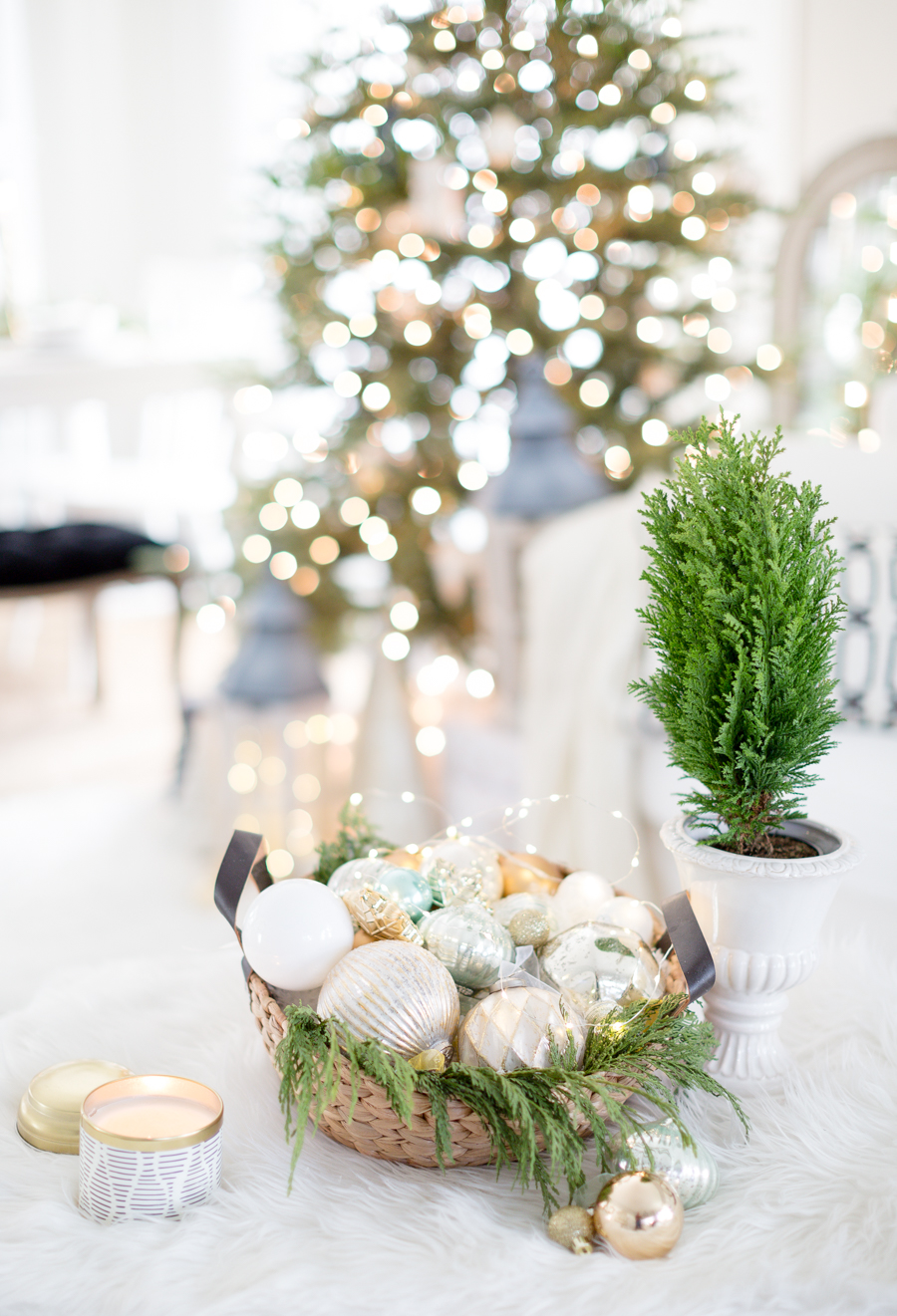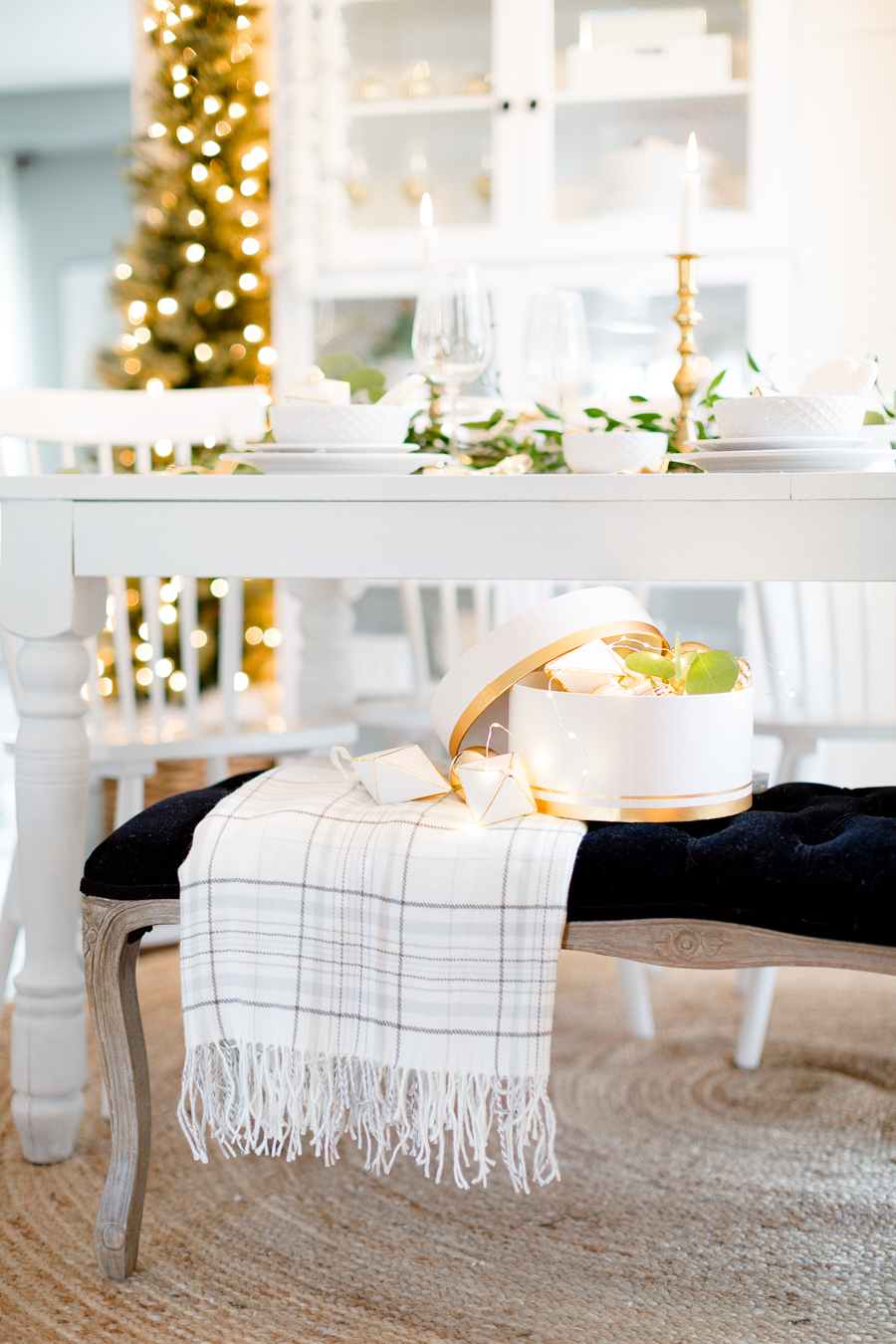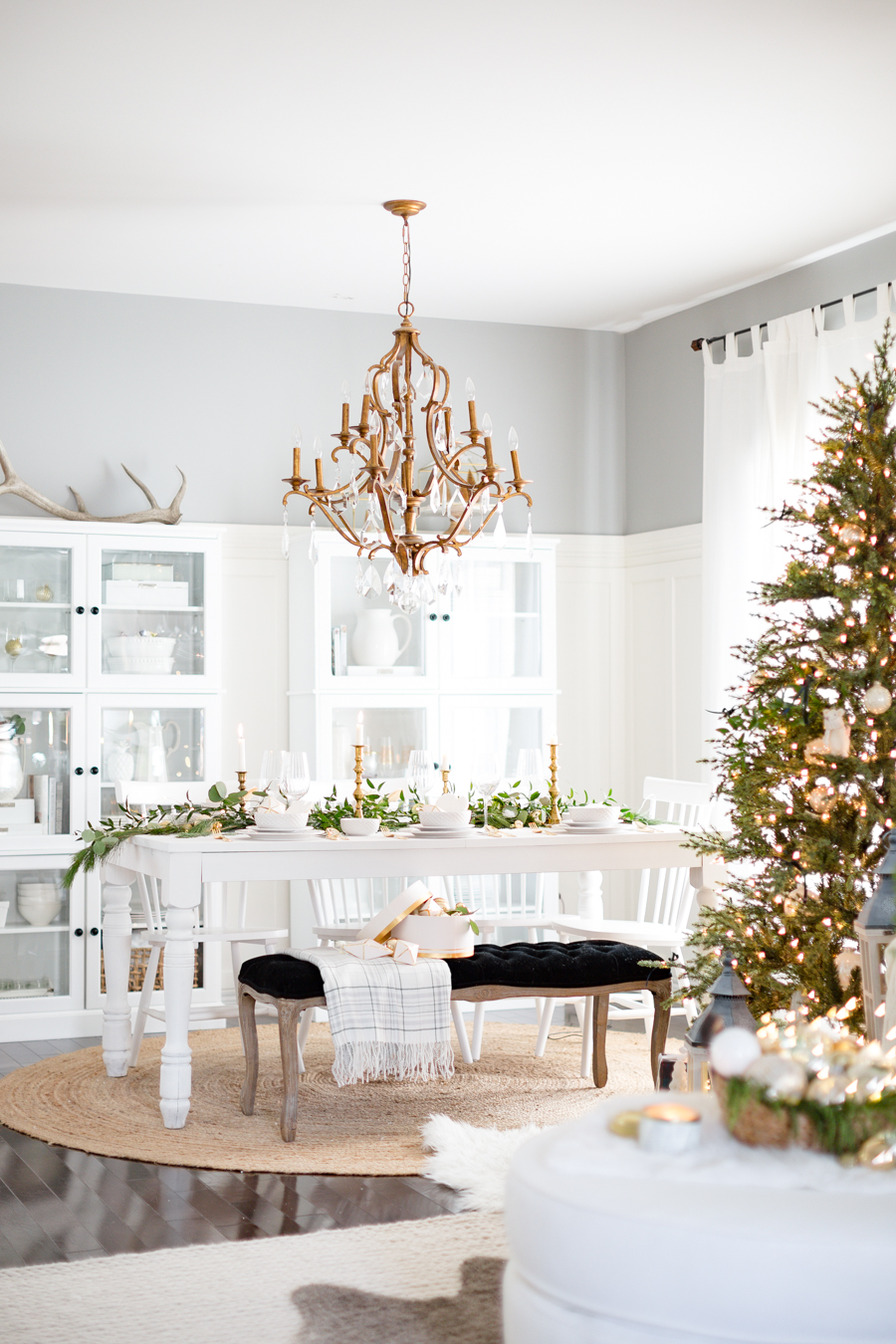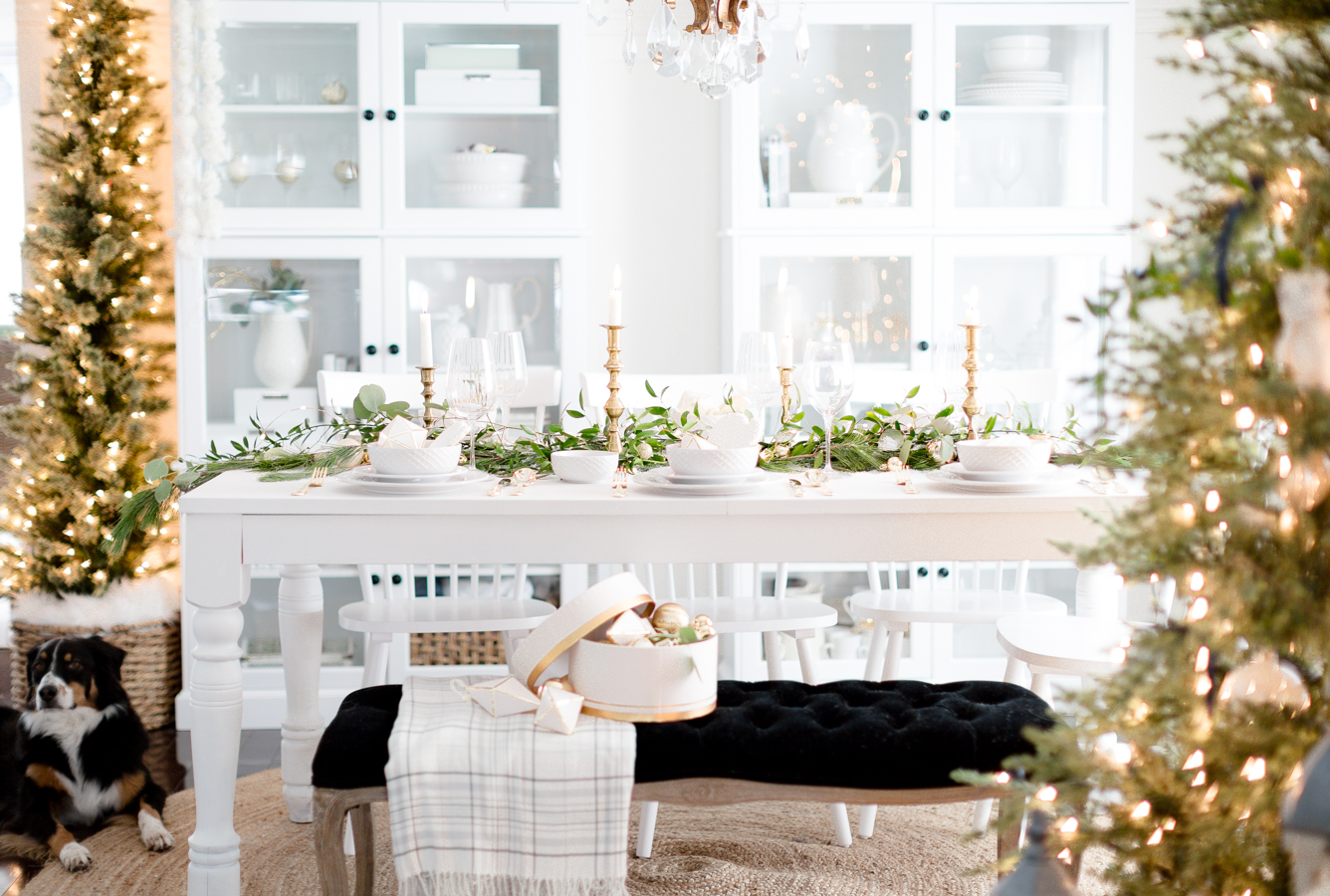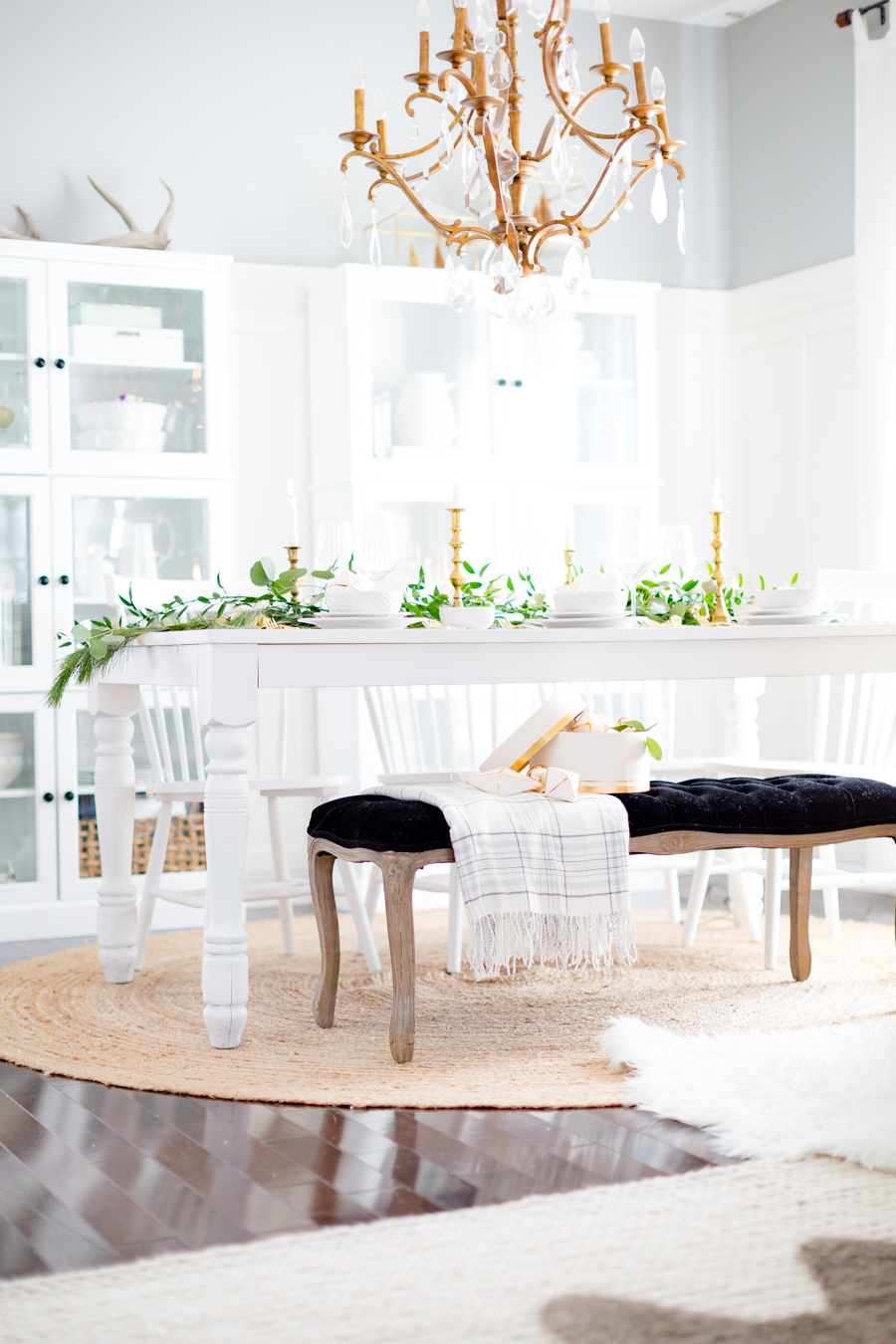 And the bench that was in Christmas bedroom  downstairs…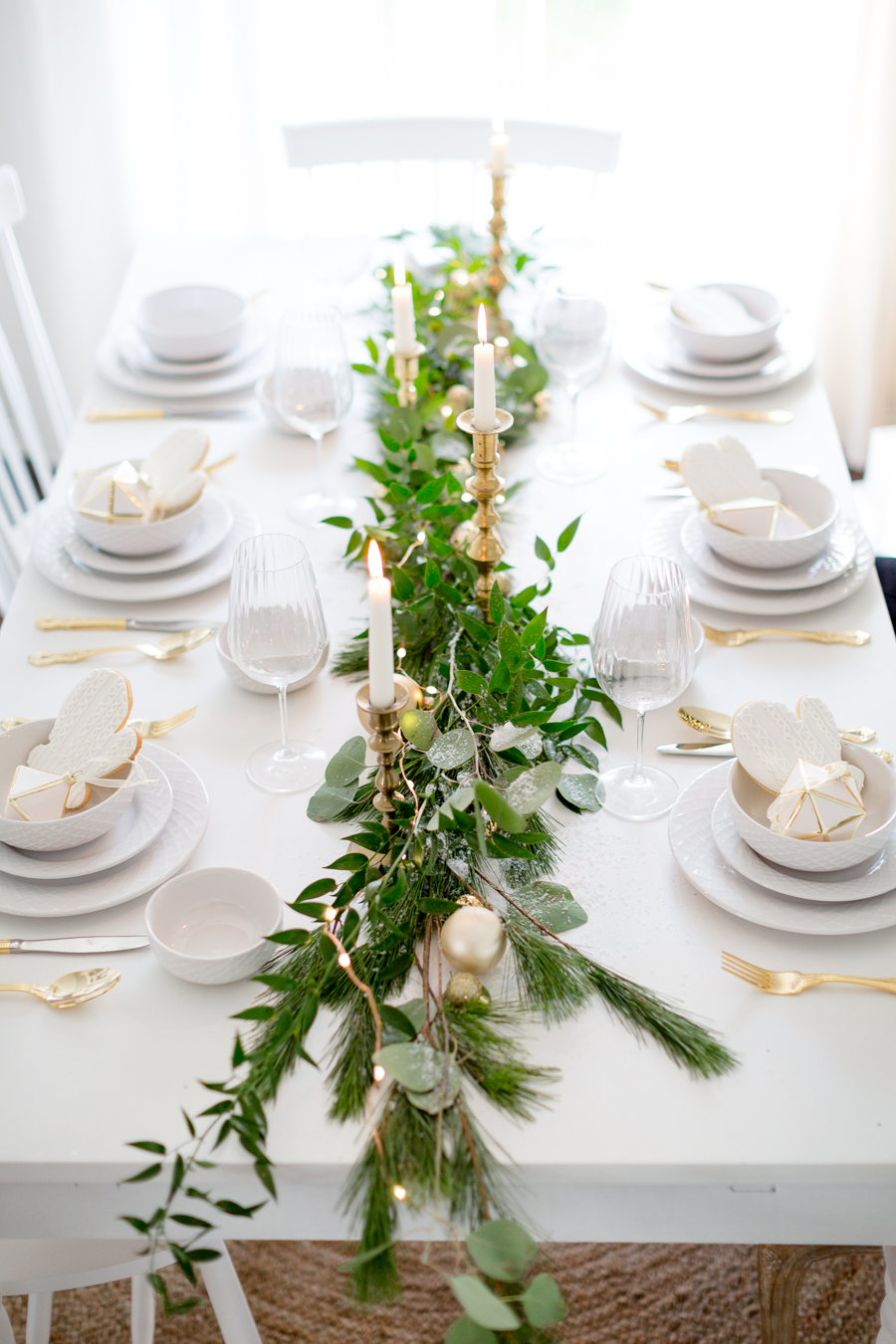 I set up an entire new tablescape using fresh greens similar to the ones on our banister and mantel….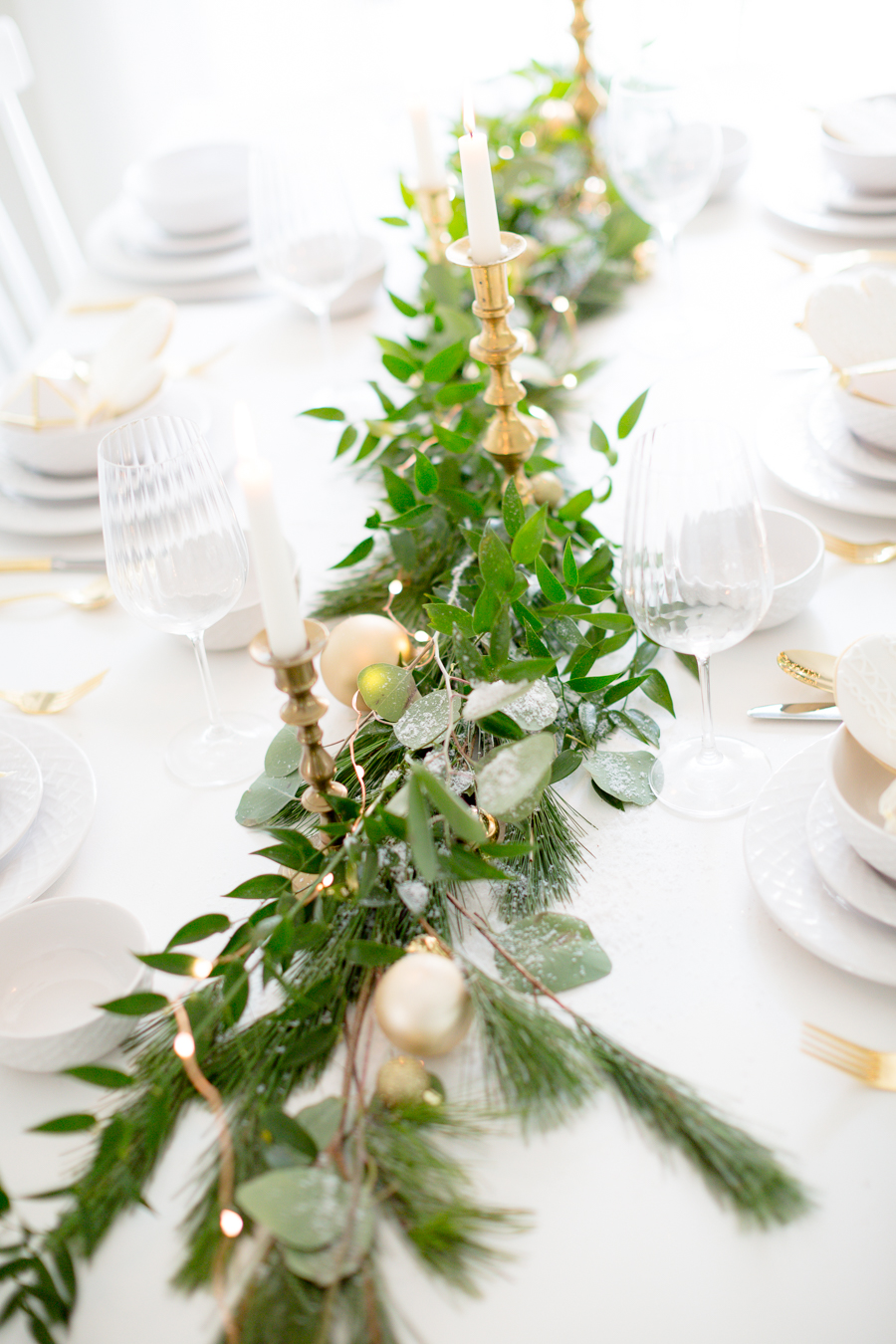 I of course sprinkled some 'snow' over them…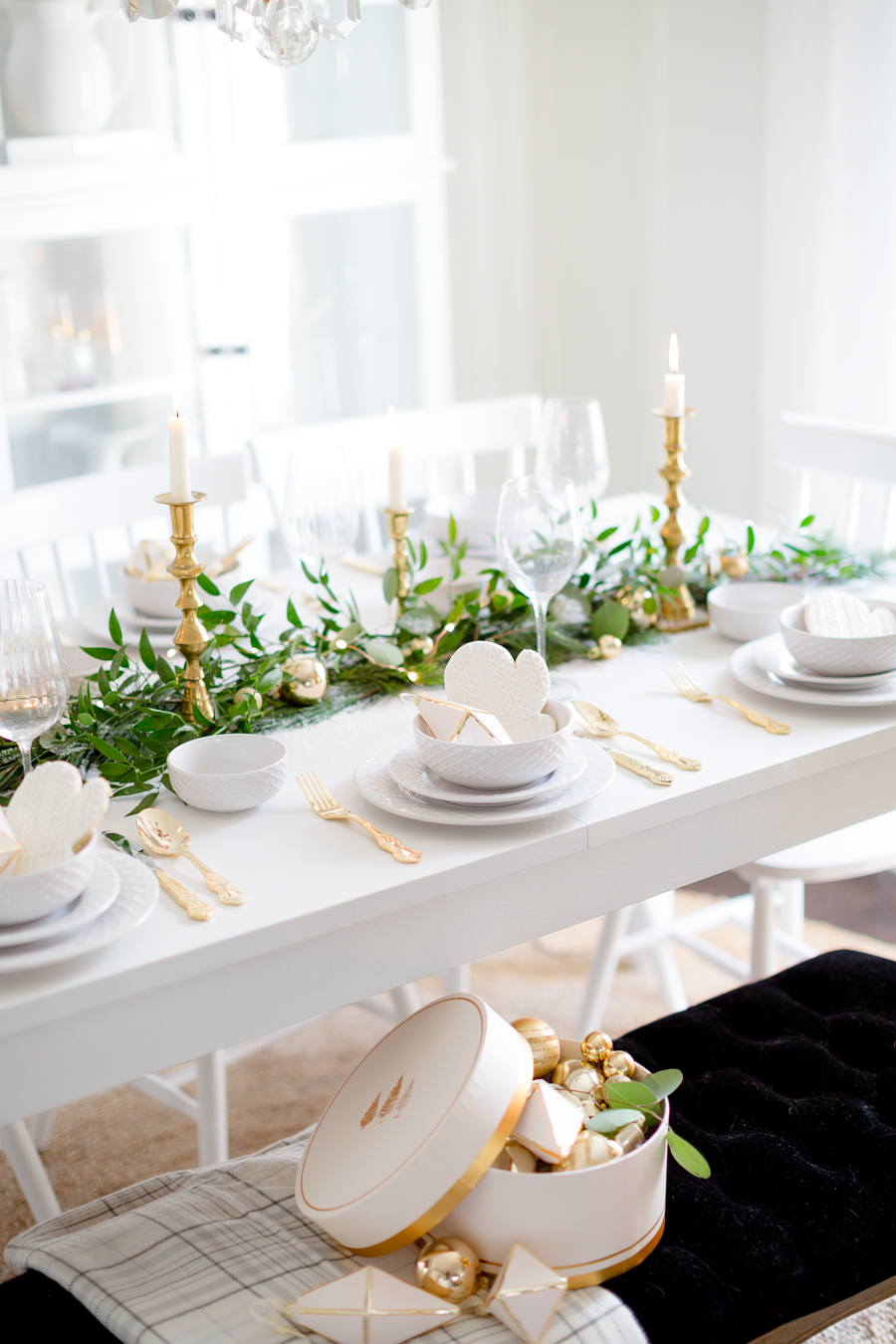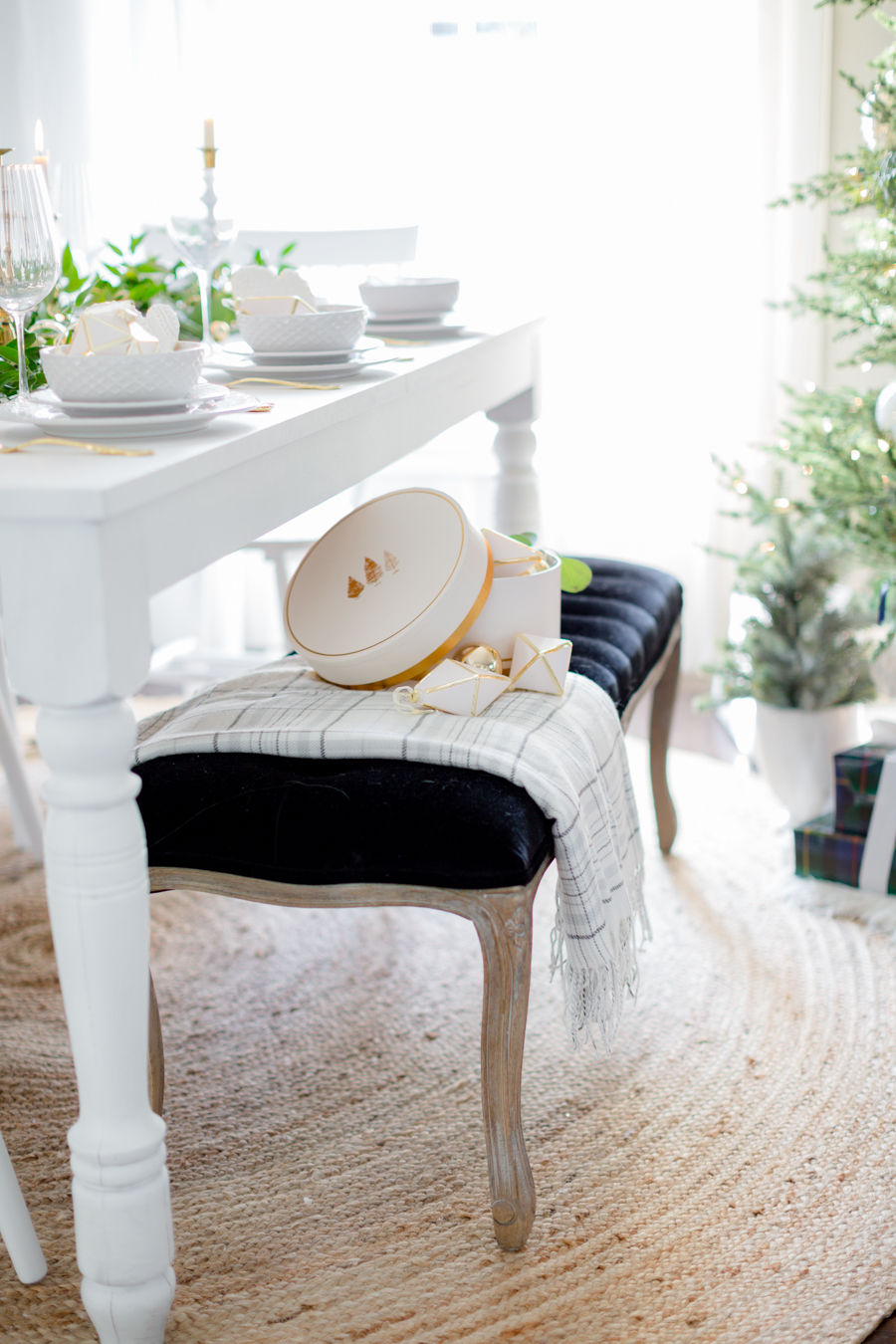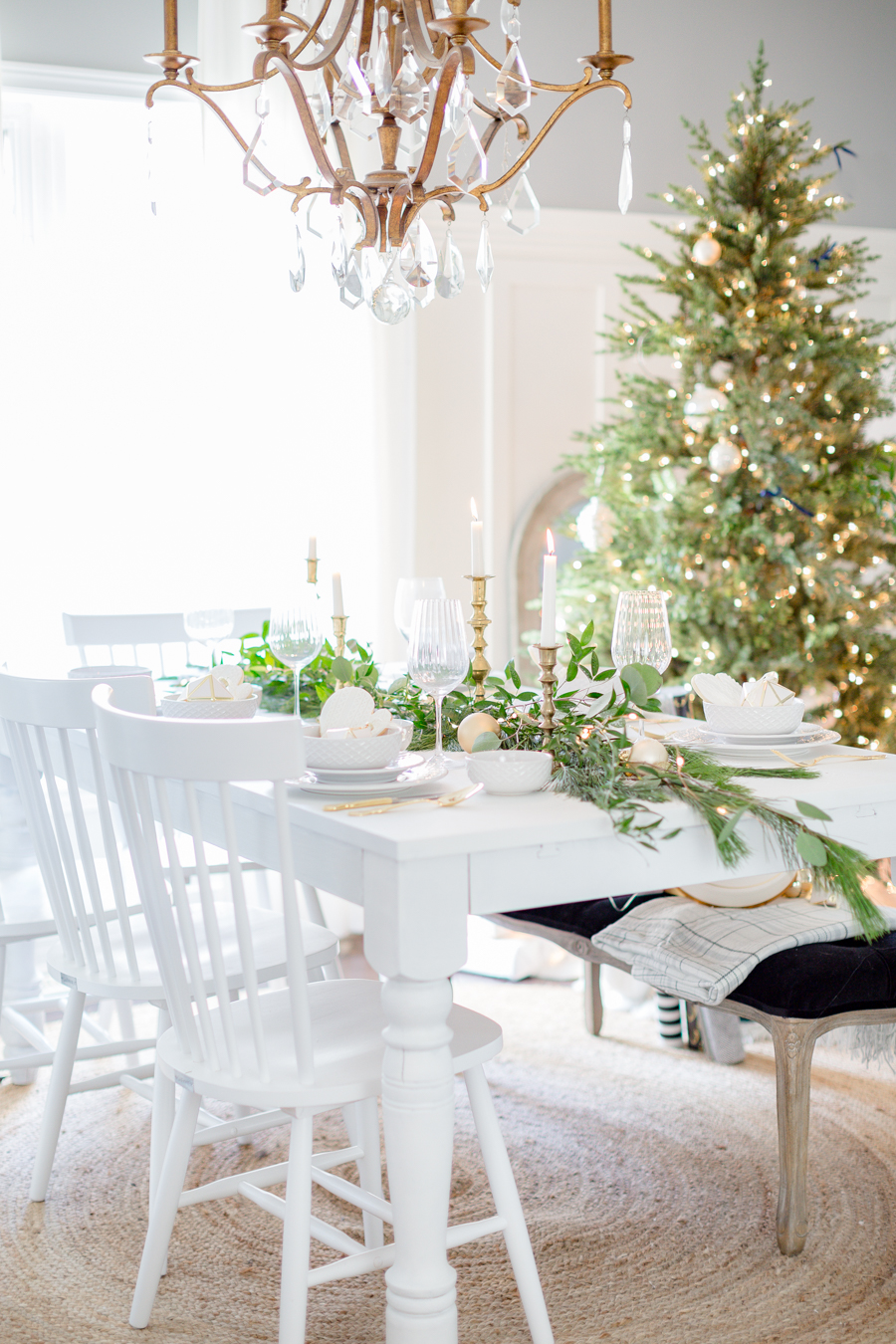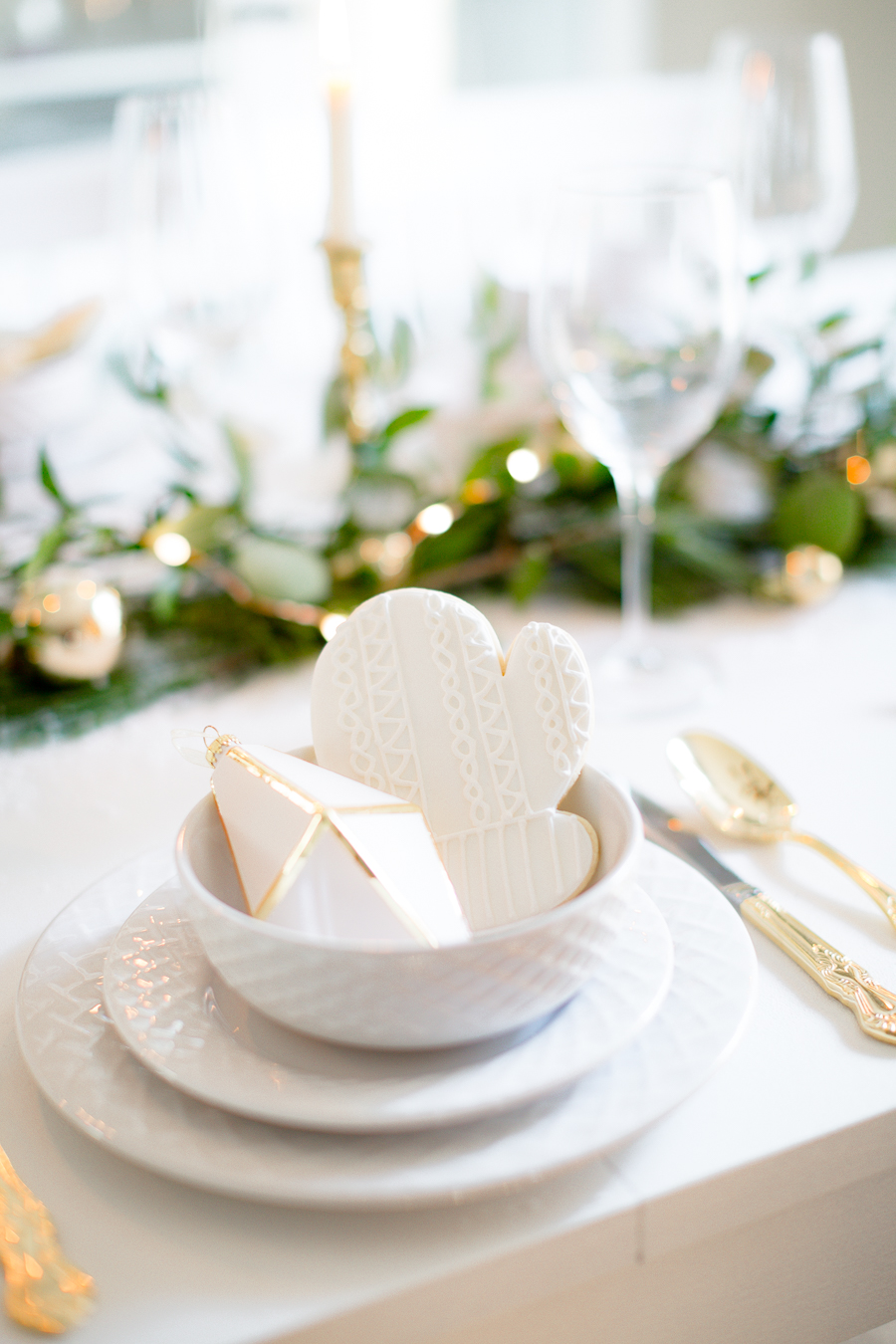 I'm in love with these pretty sugar cookies.  I bought them at a Christmas craft sale my sisters and mom participated over the weekend. I think they just look amazing paired with these modern ornaments also from Canadian Tire.
Their Alpine line this year is amazing.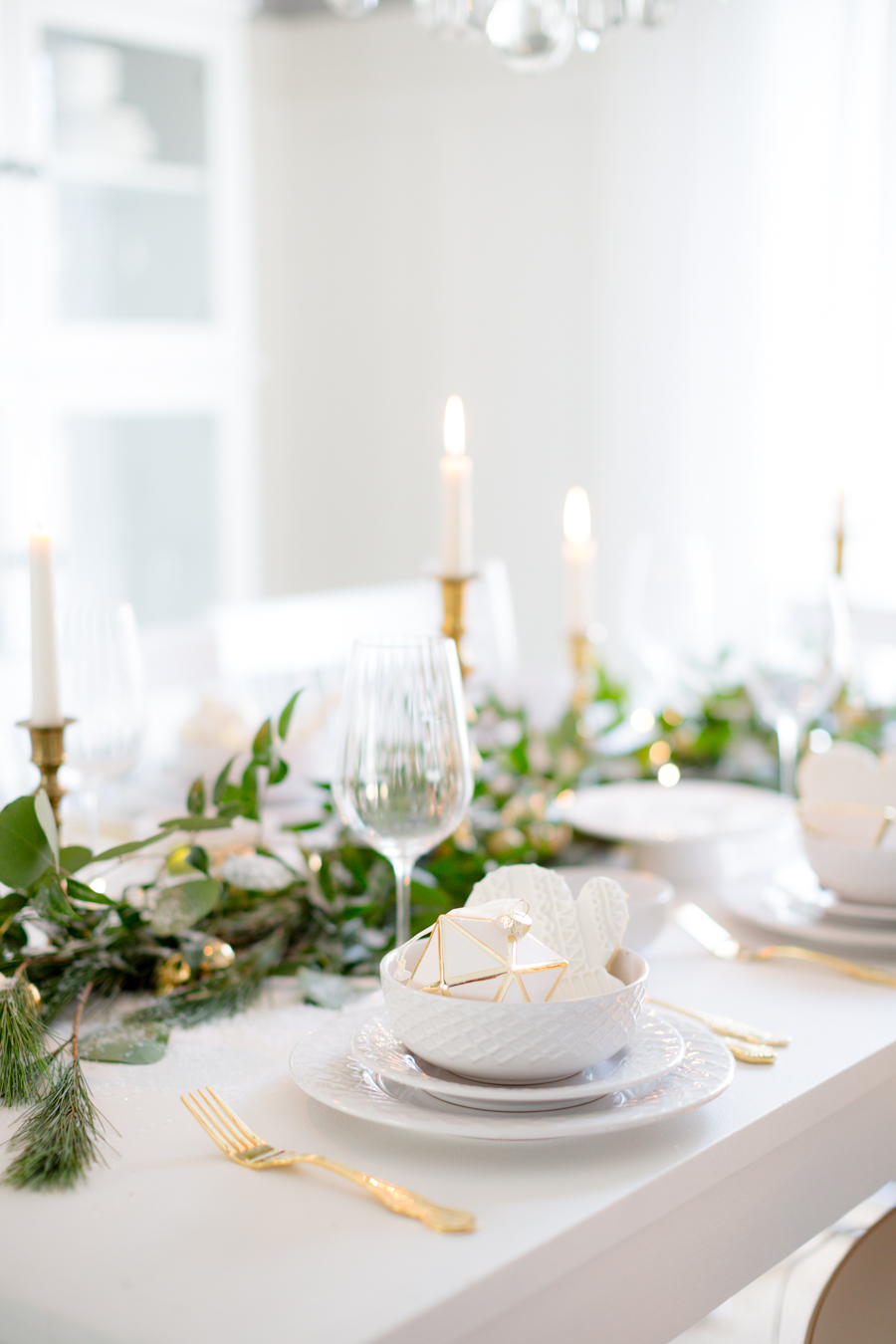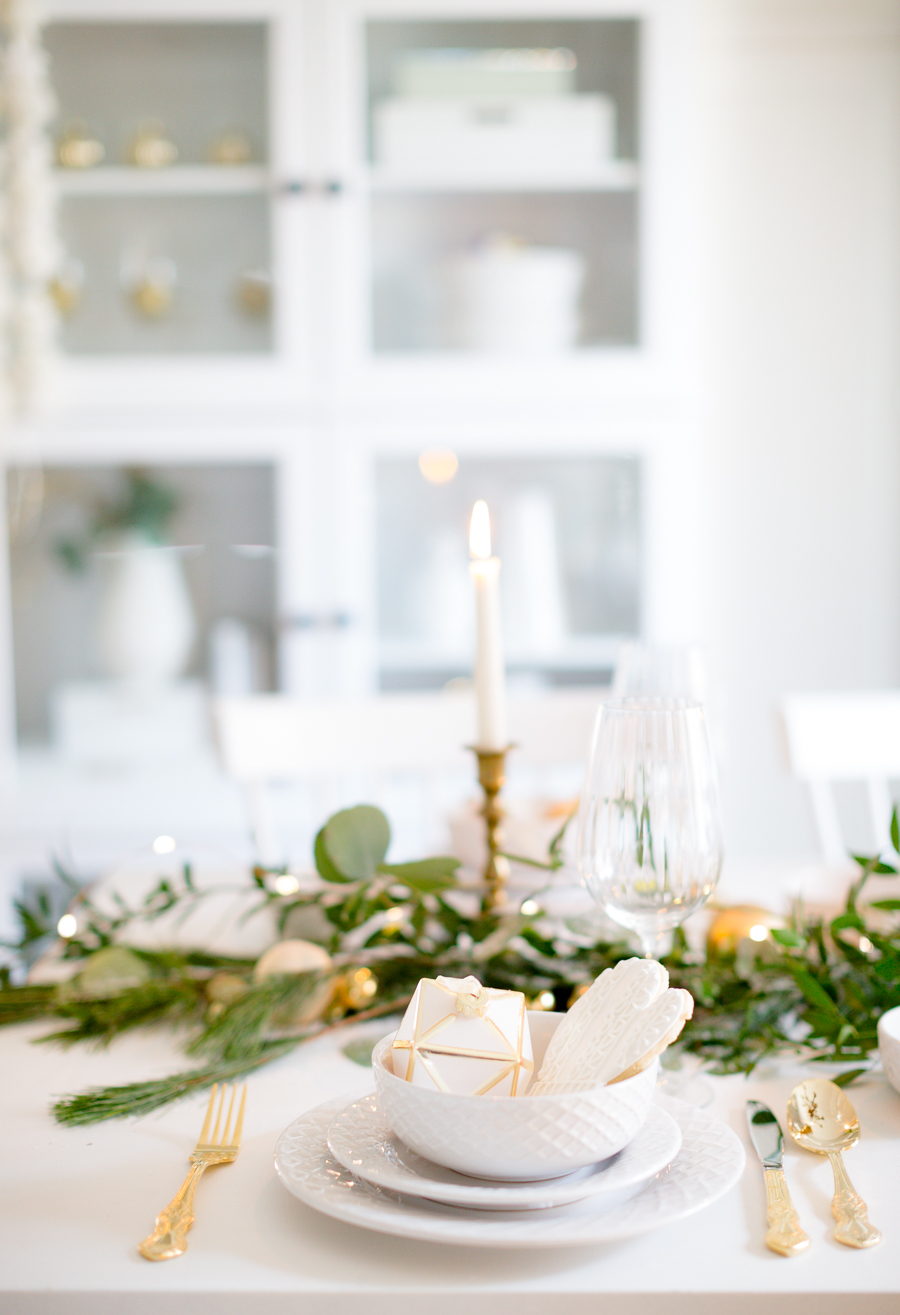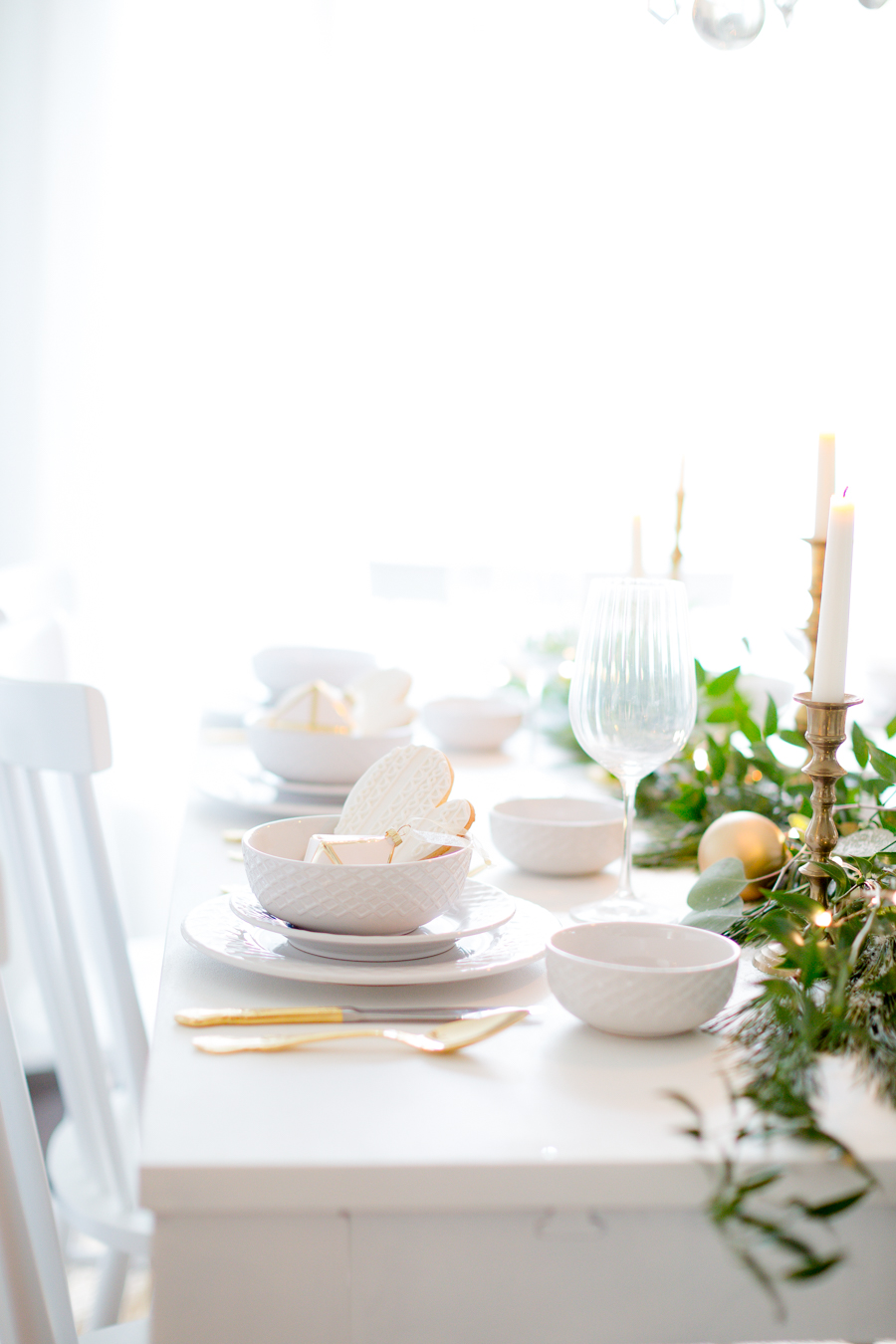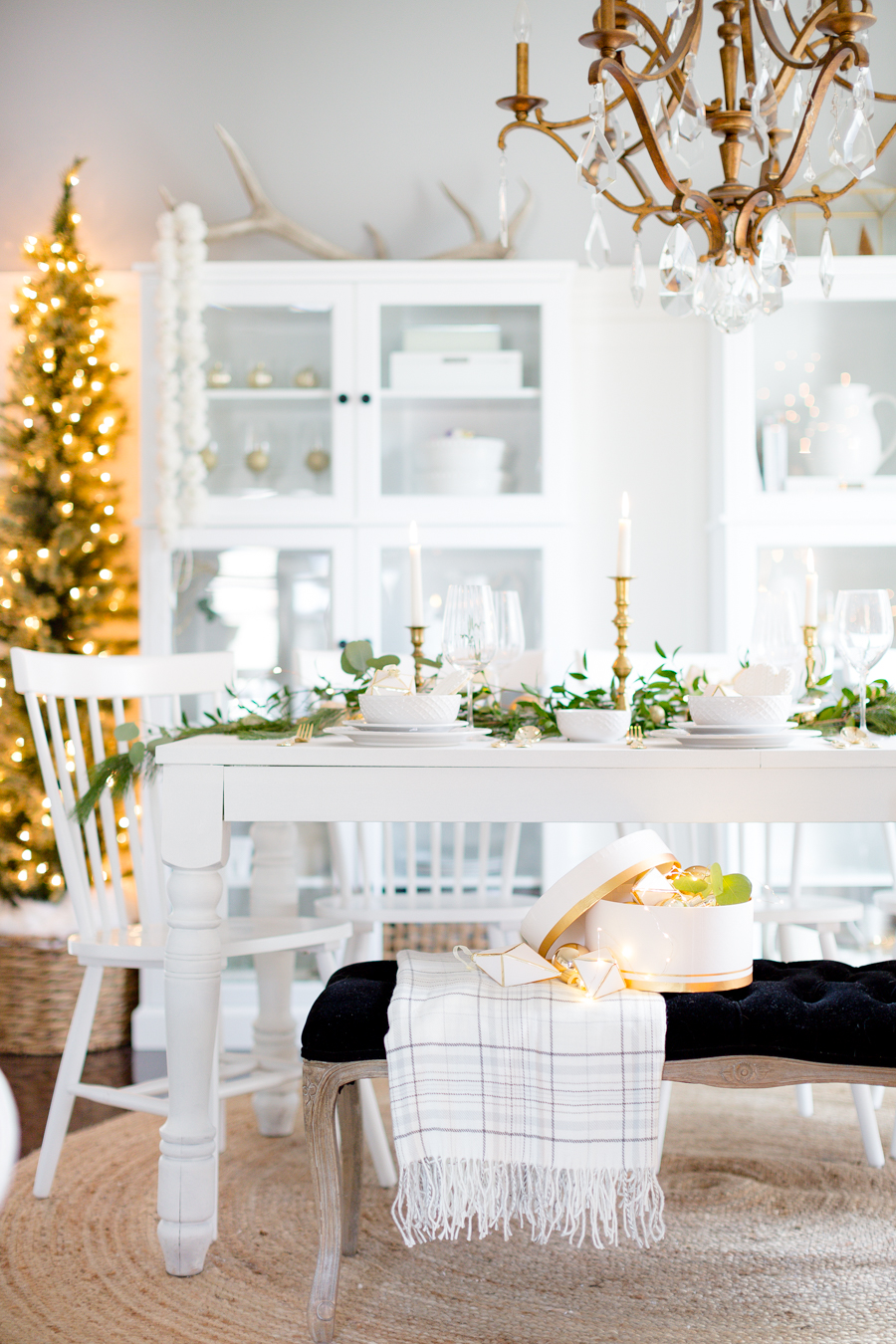 Moving on…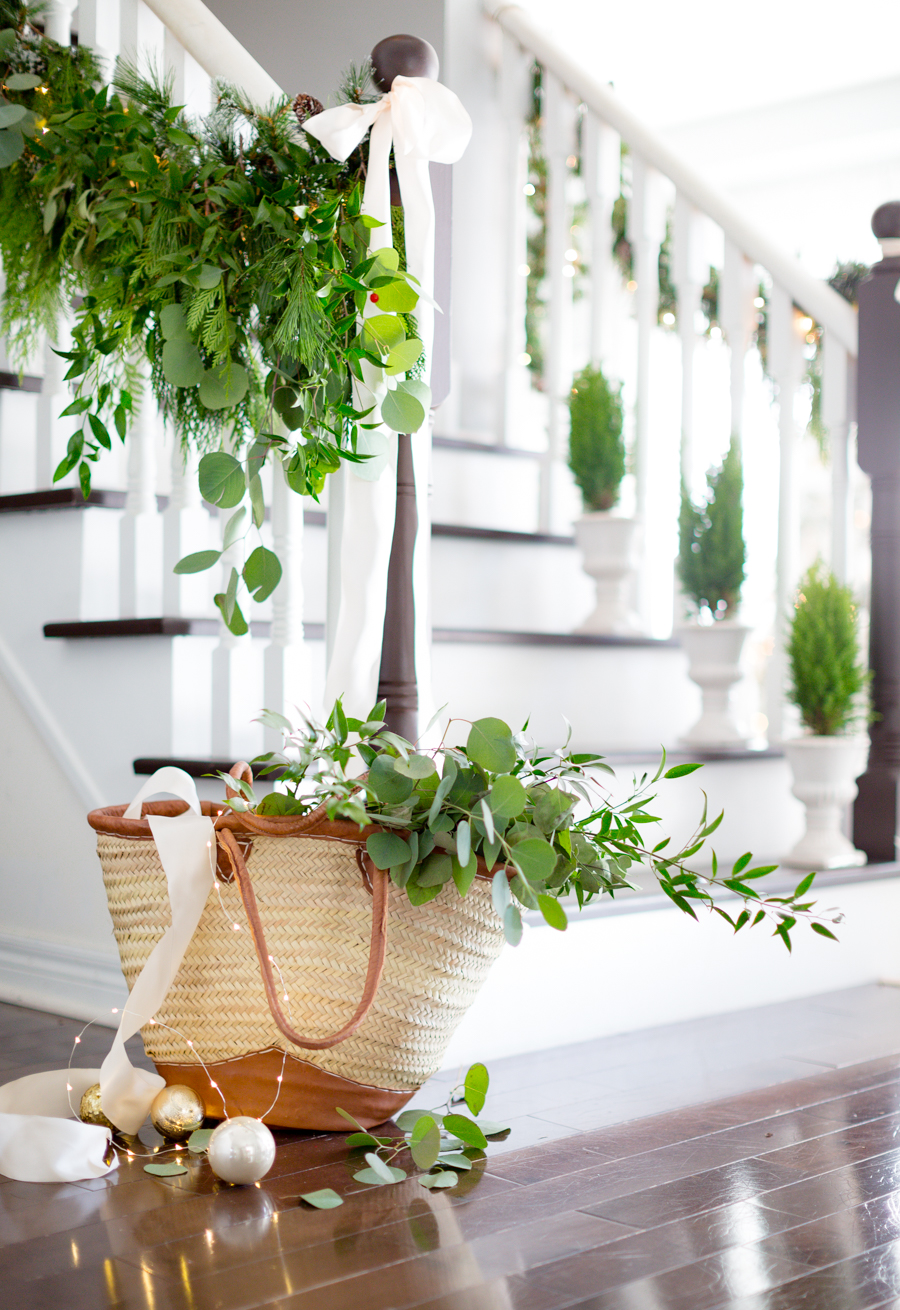 One of my favourite parts of decorating for Christmas is doing the banister . I will have a quick post explaining how I put it together…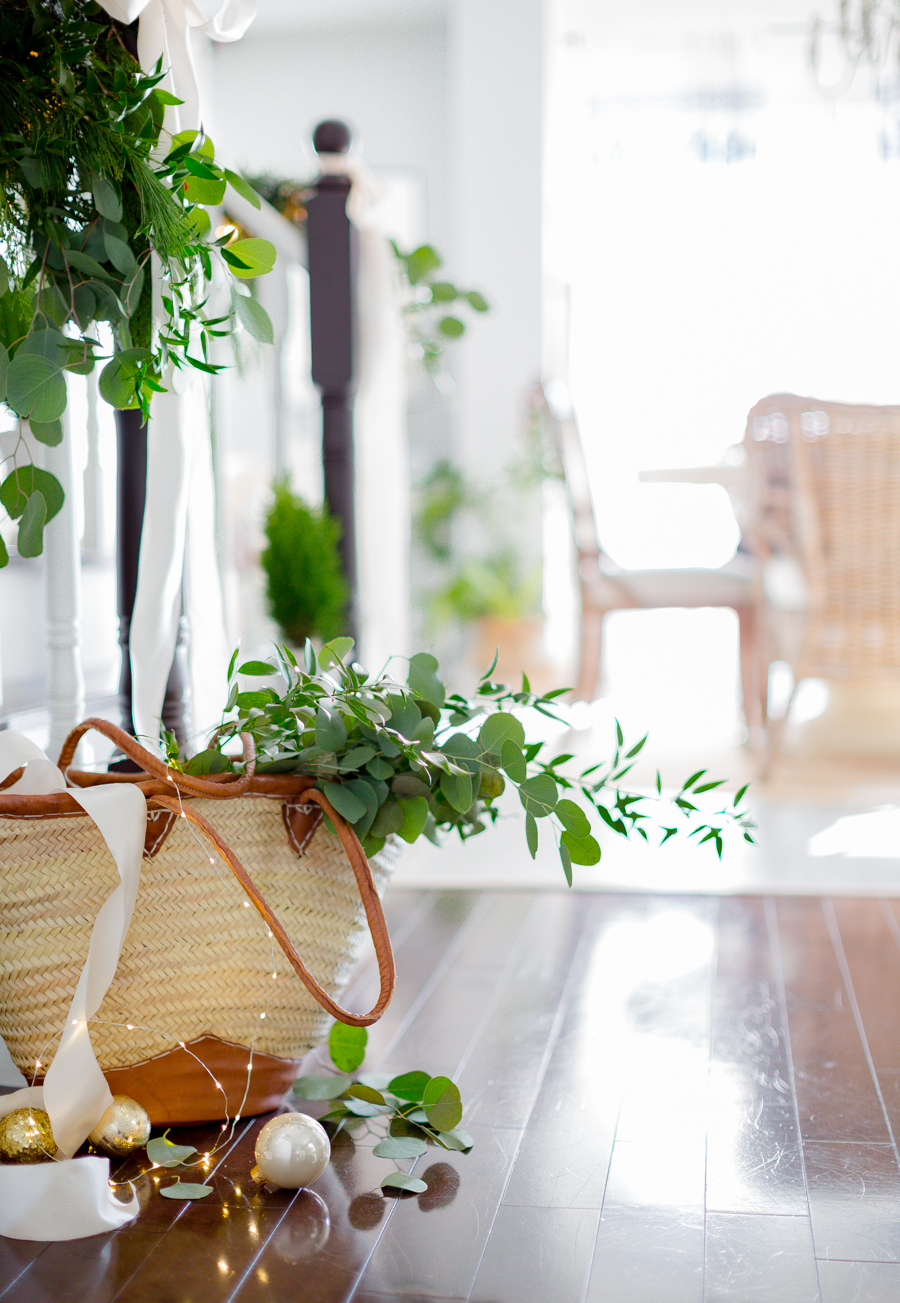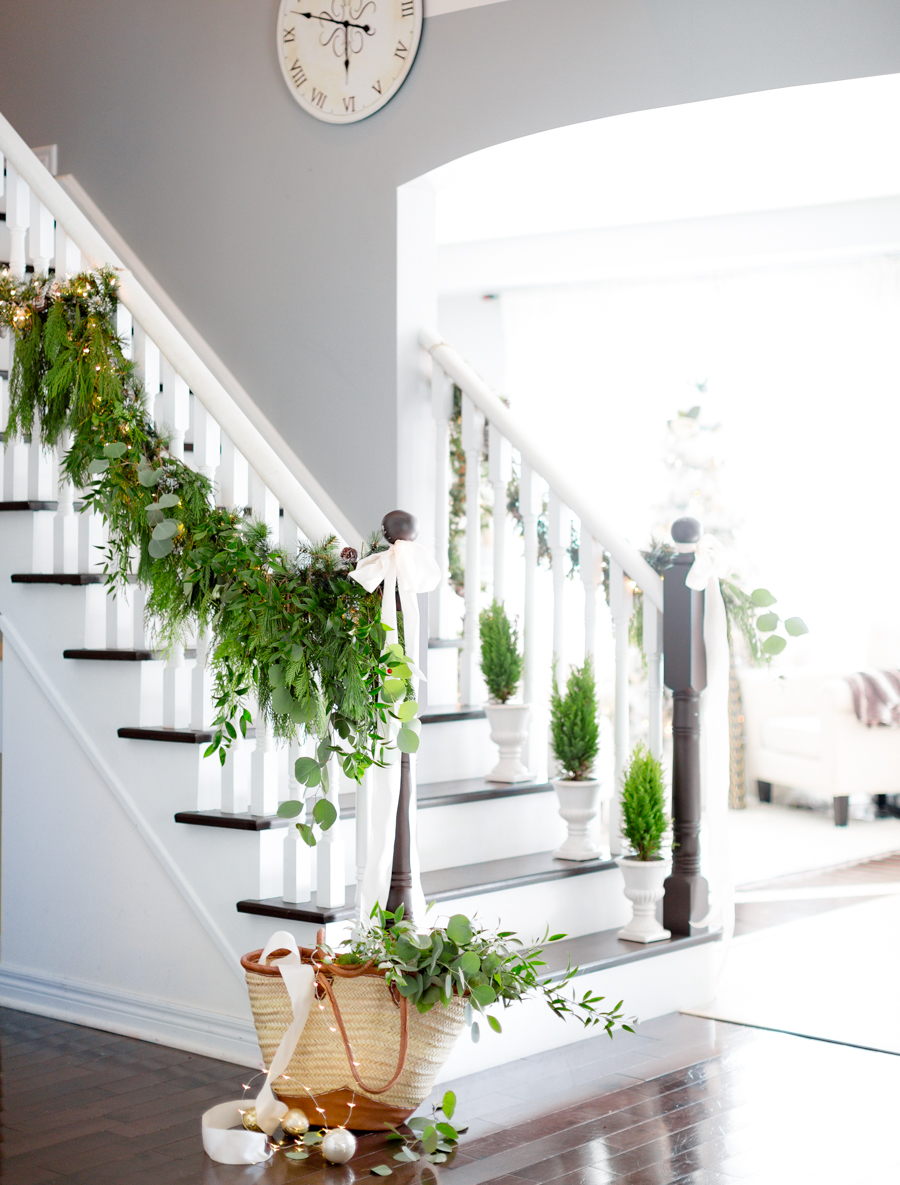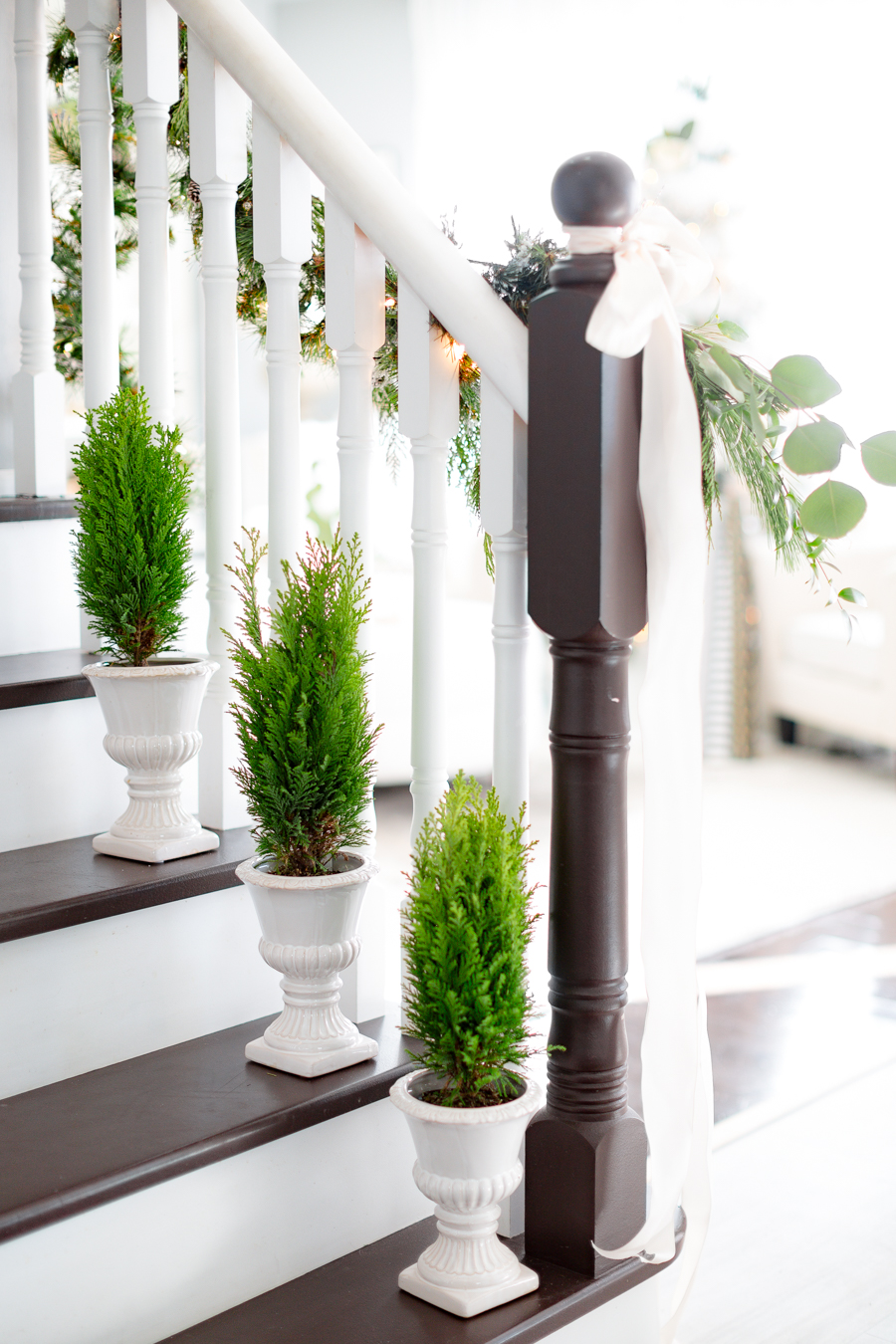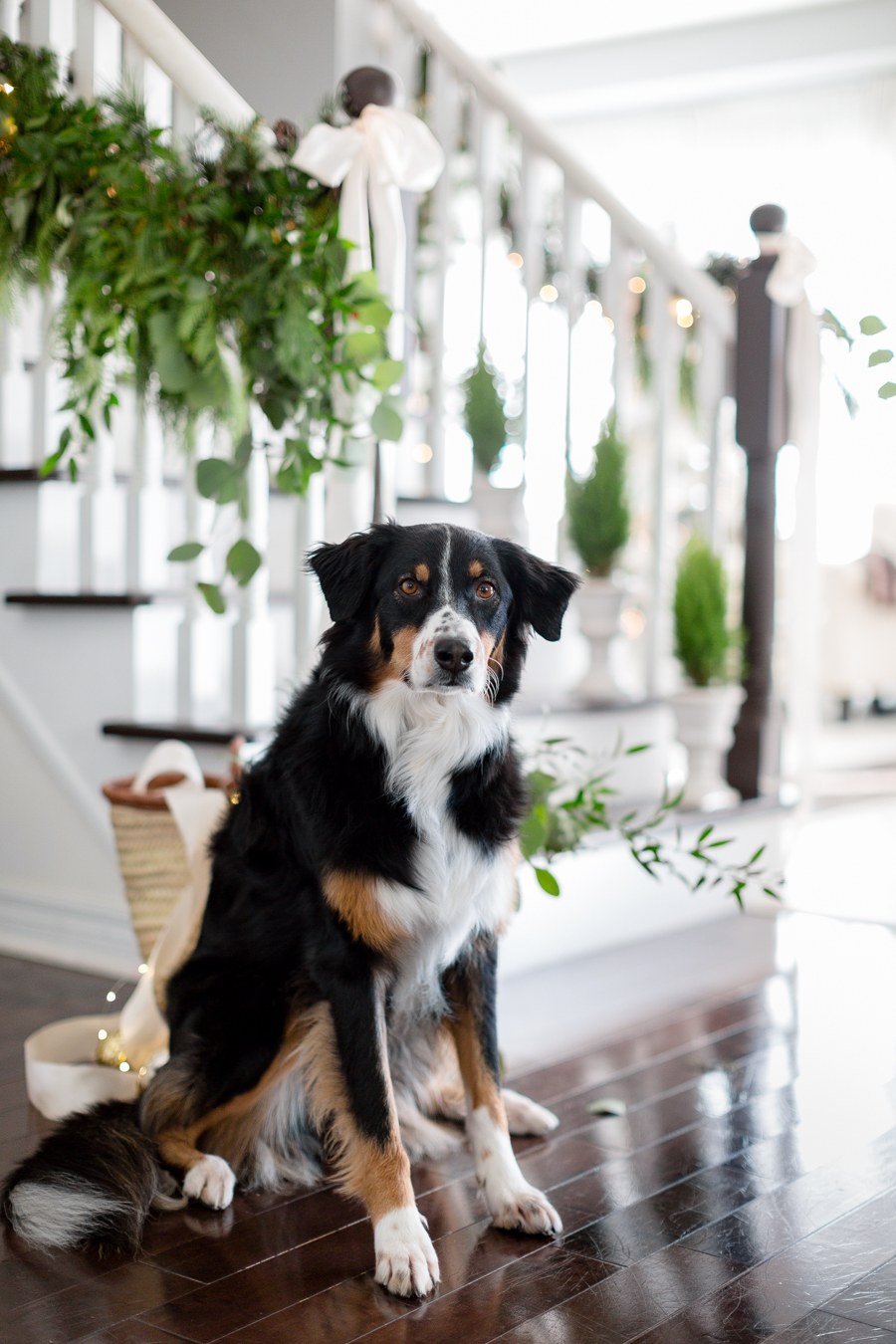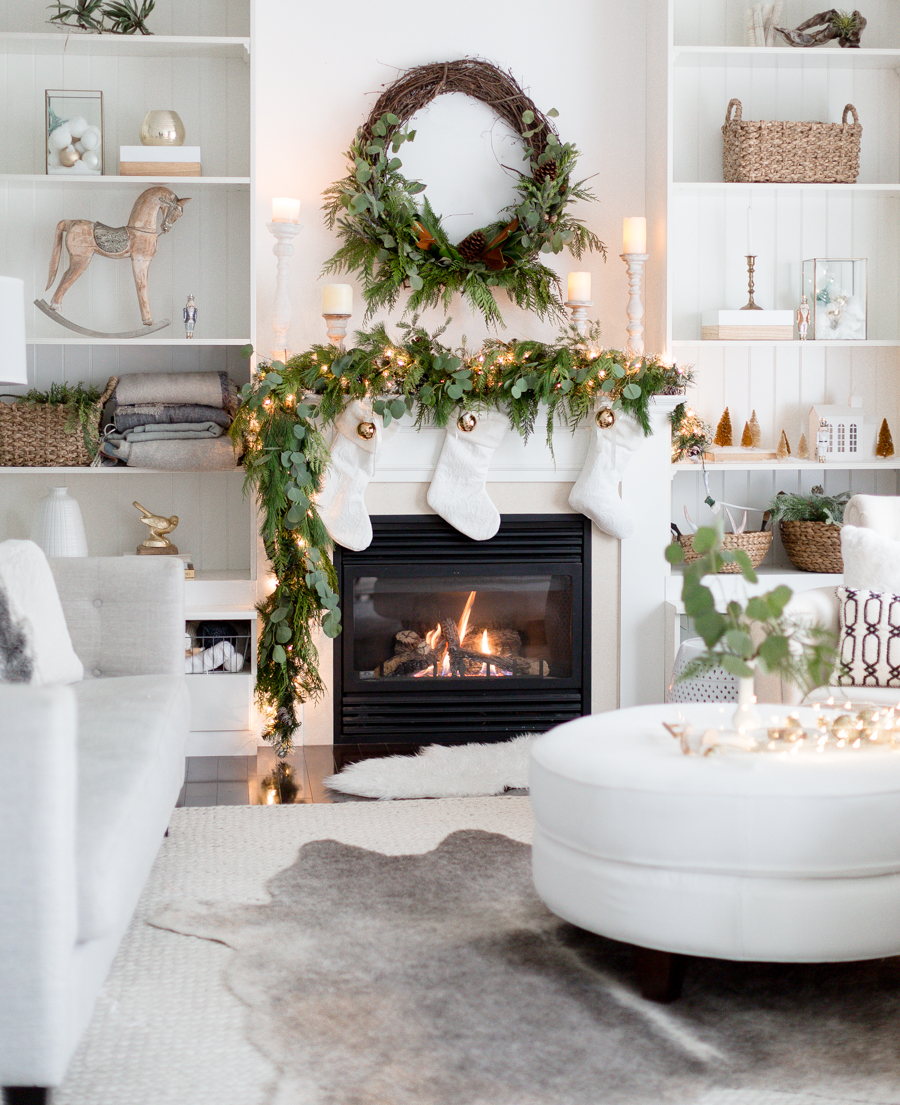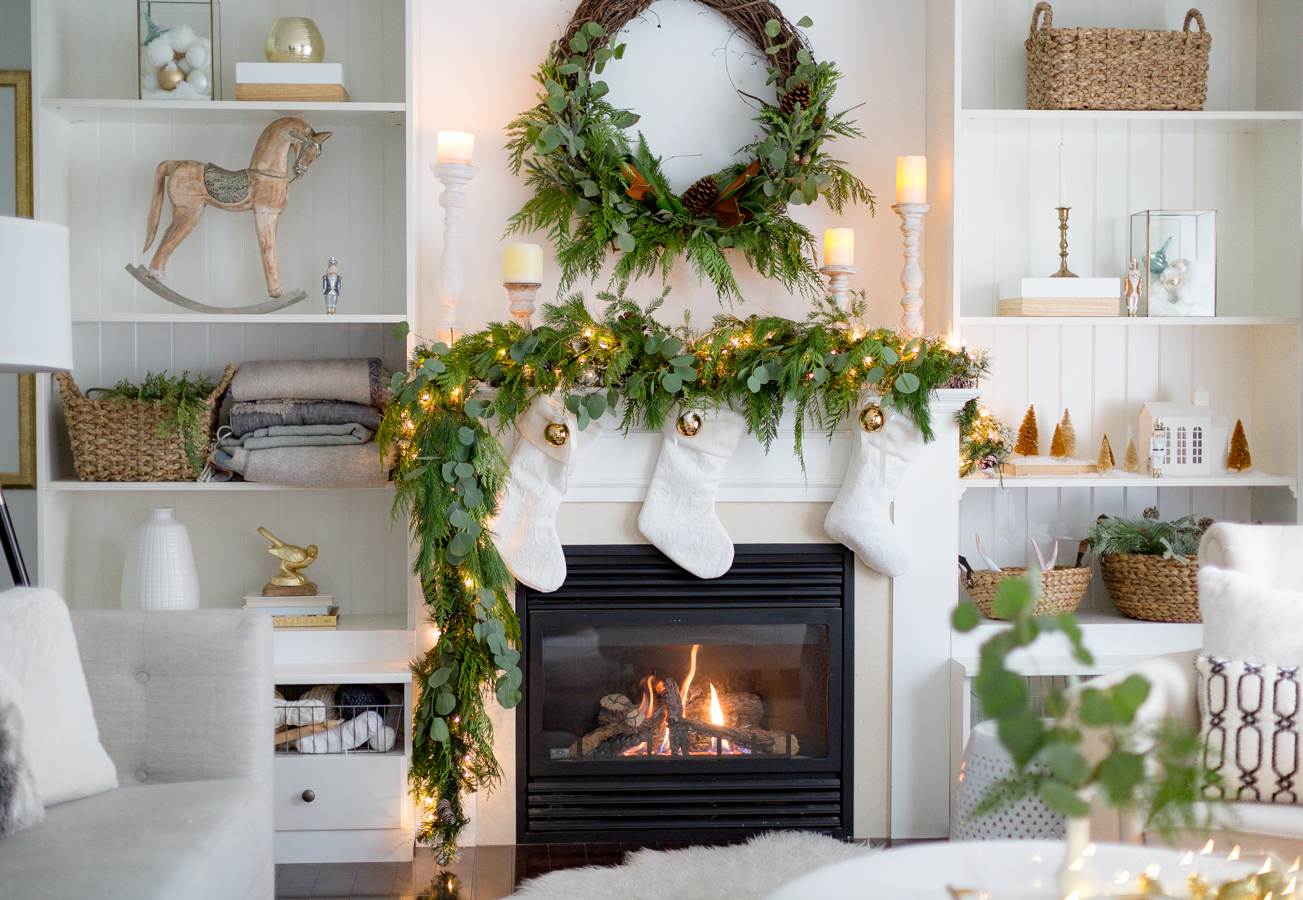 My favourite part of this room is the garland and wreath and I have a tutorial for the wreath HERE.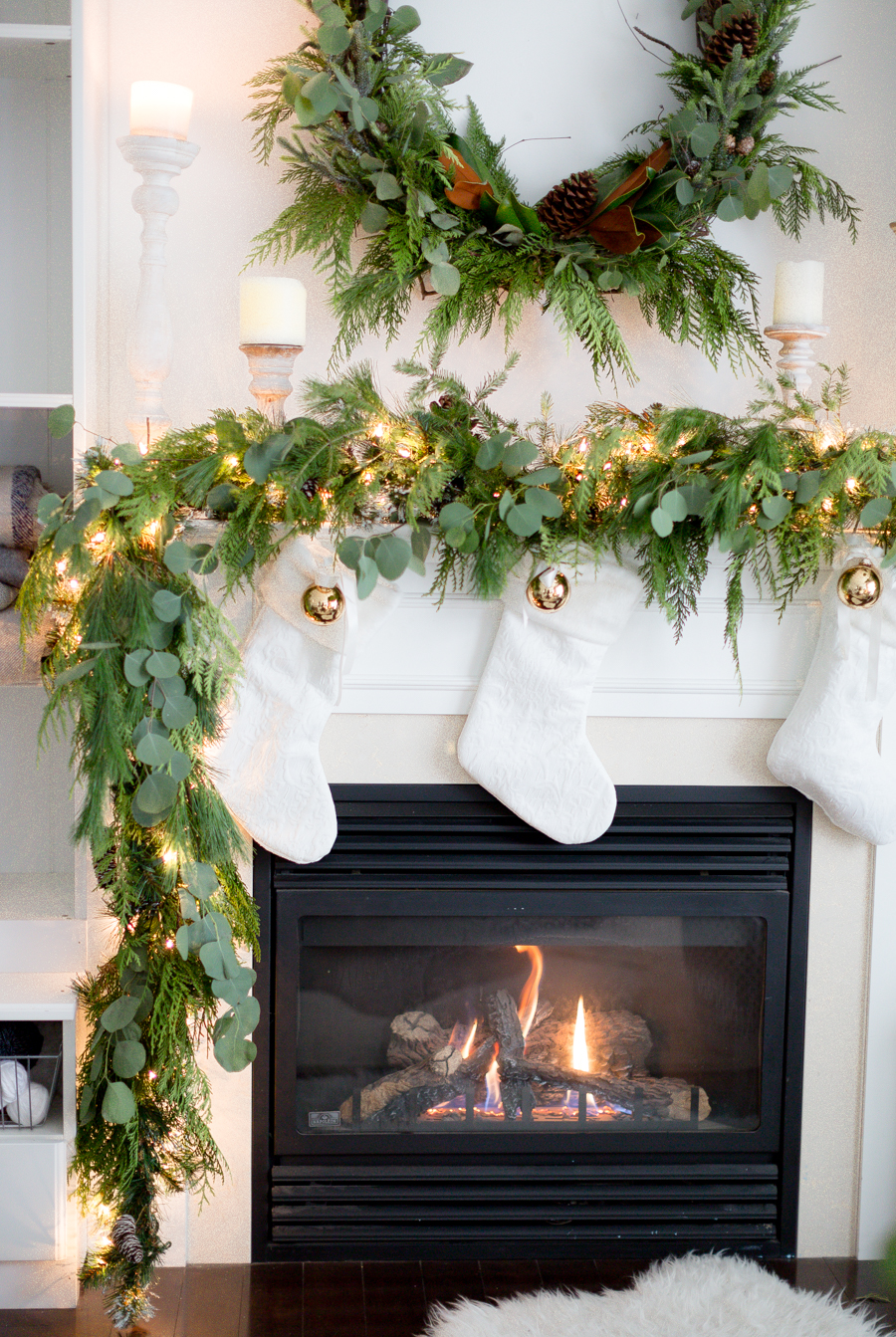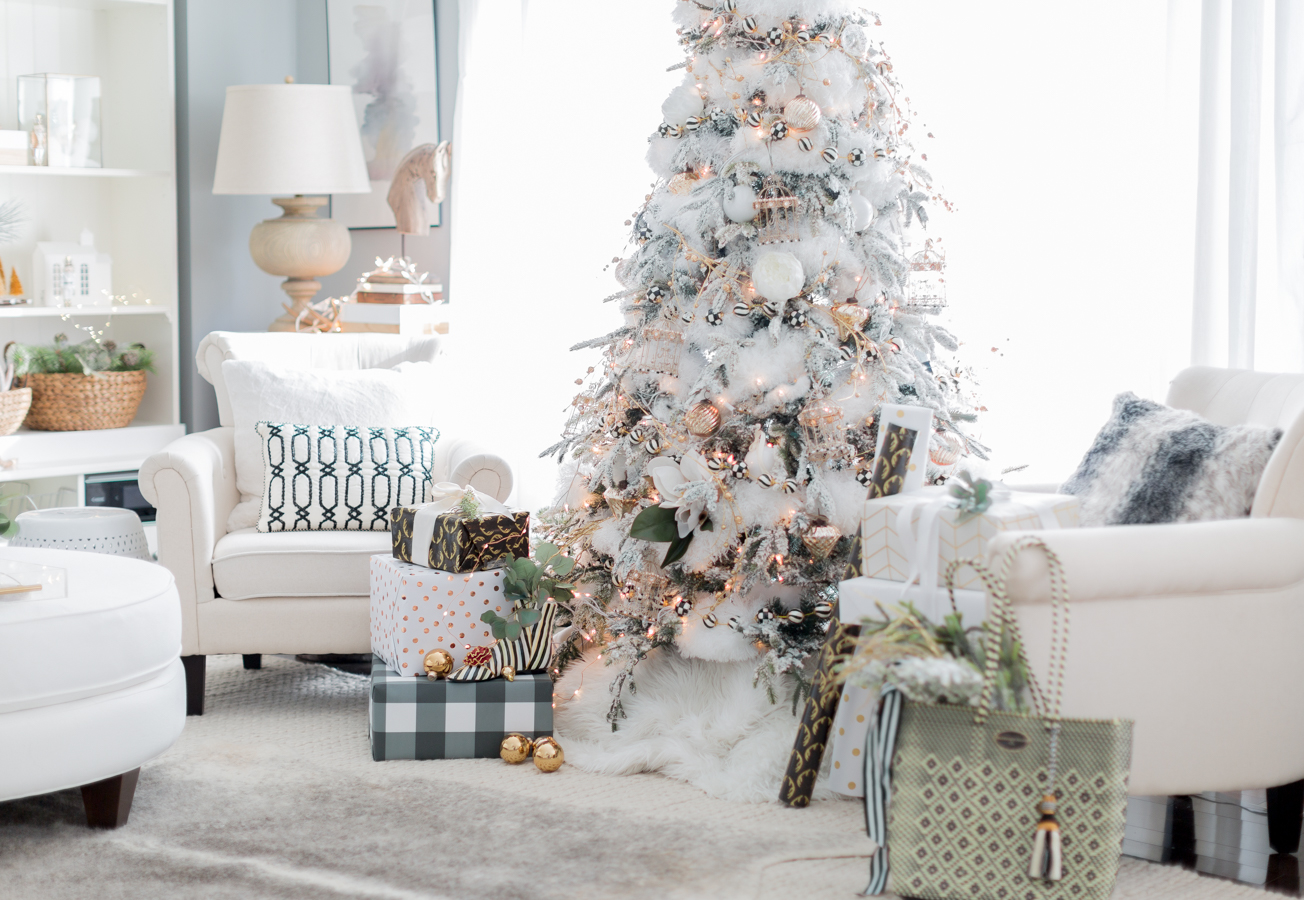 I kept the flocked tree here but now it feels a little more cohesive because there's also black and white in our dining room.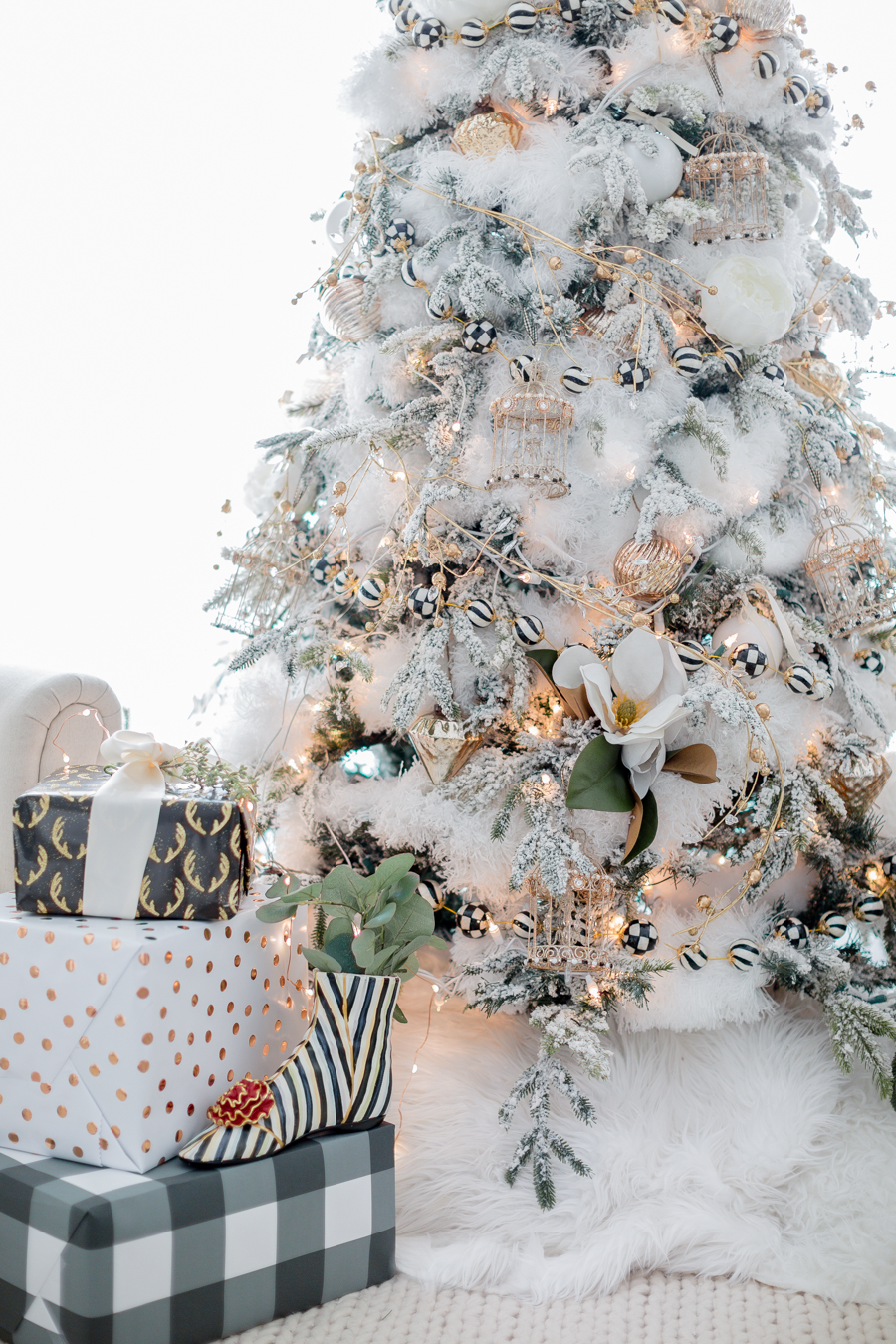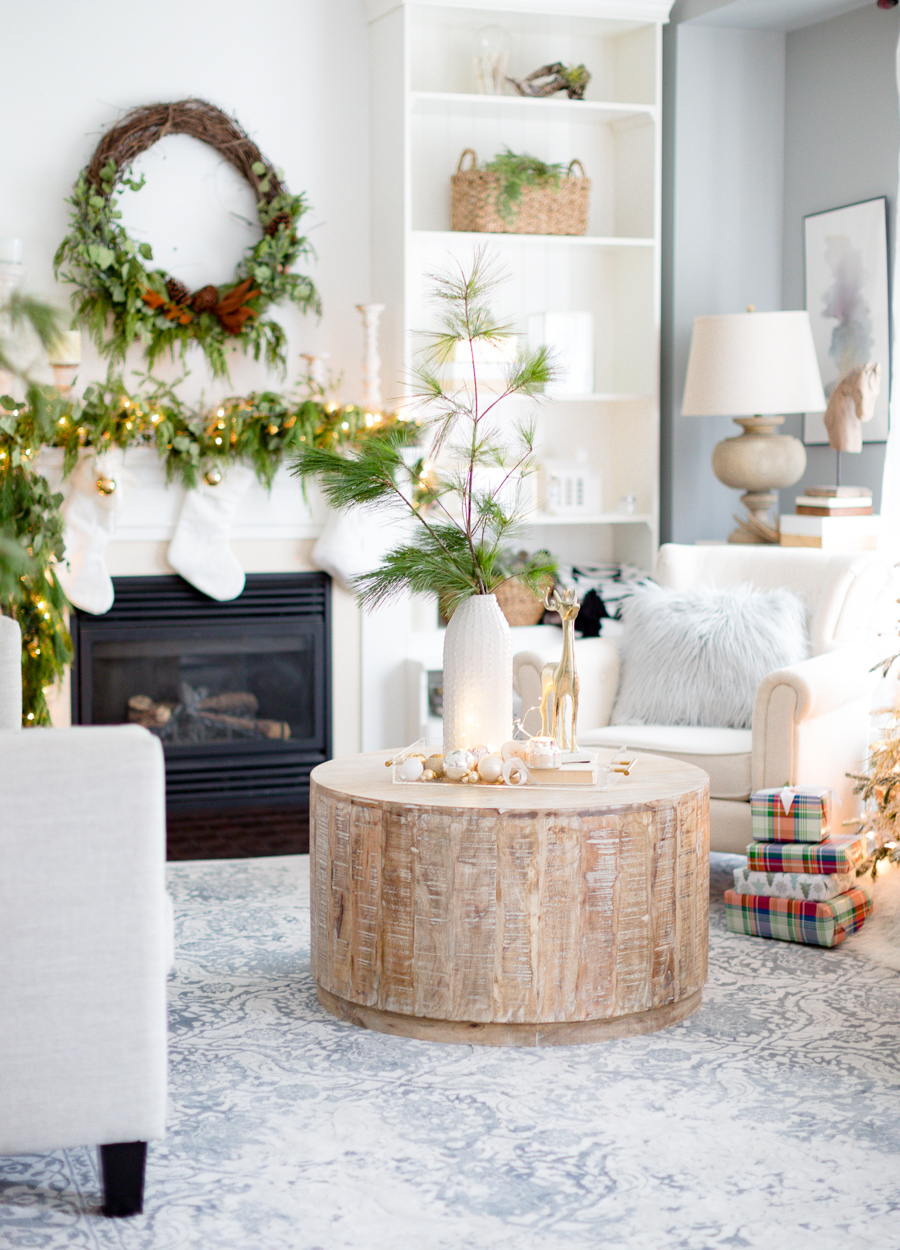 Here are a couple of photos I took quickly ….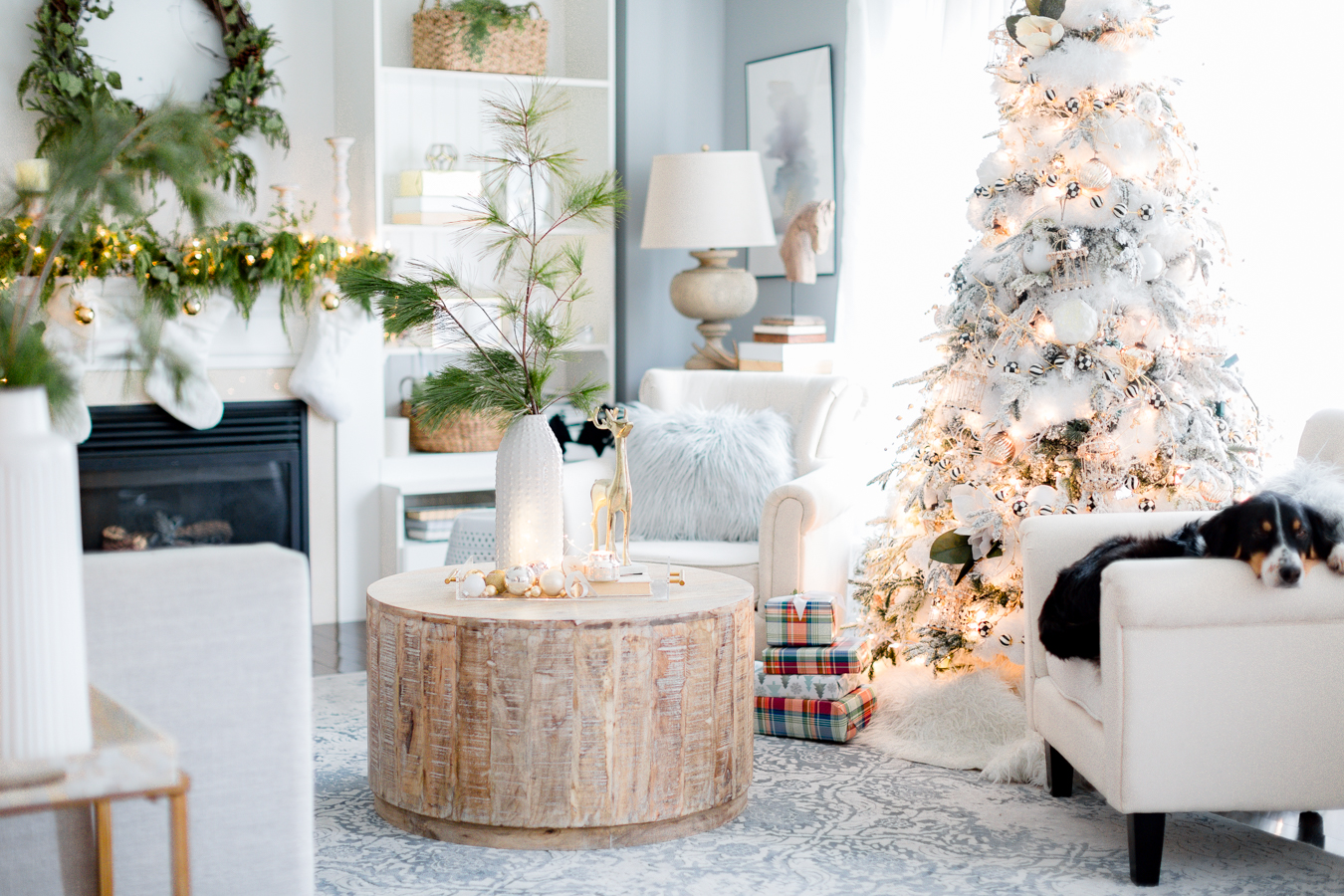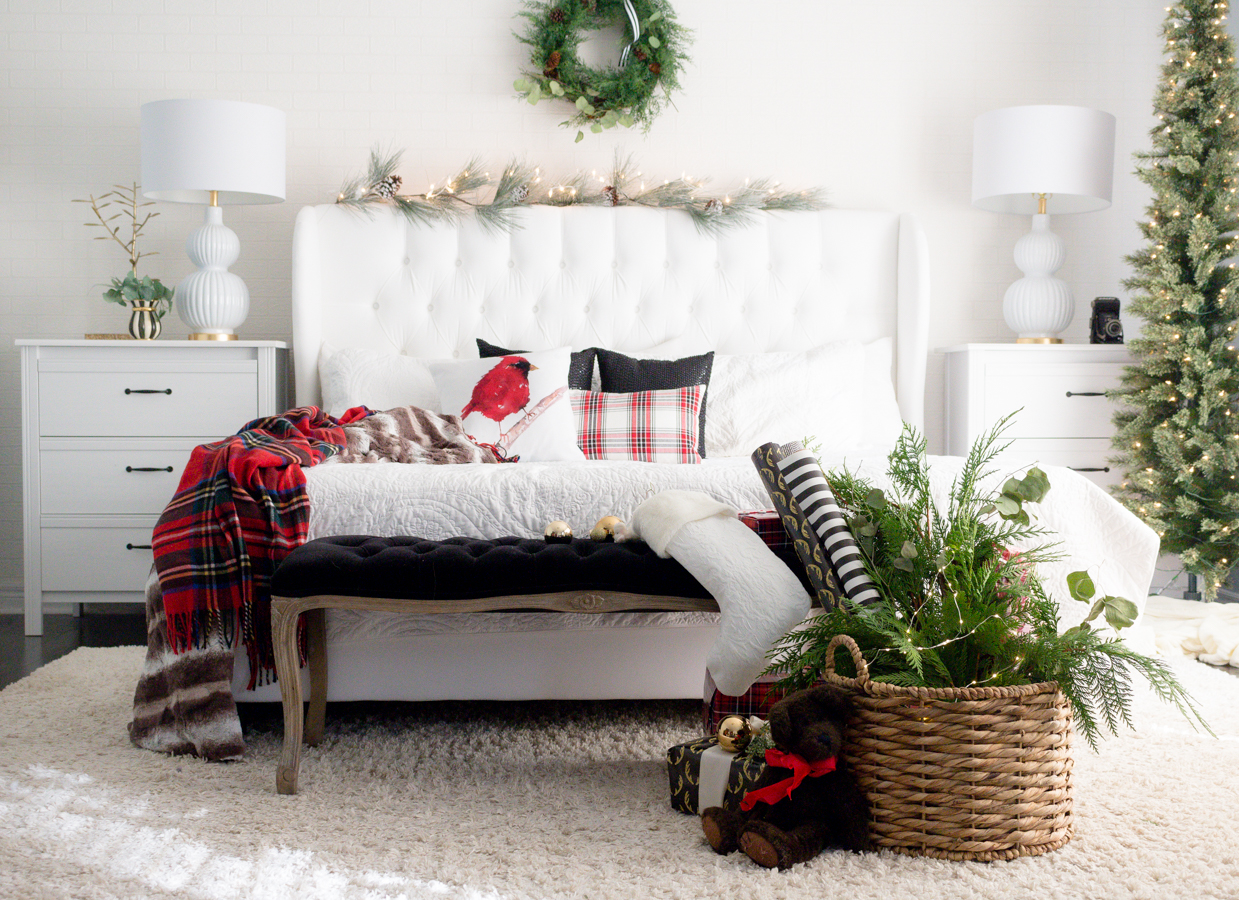 Here is the bench that is now downstairs. I kinda miss it in our bedroom so I might have to get another one. Thankfully it's not too, too  expensive.  You can see more of the bedroom HERE.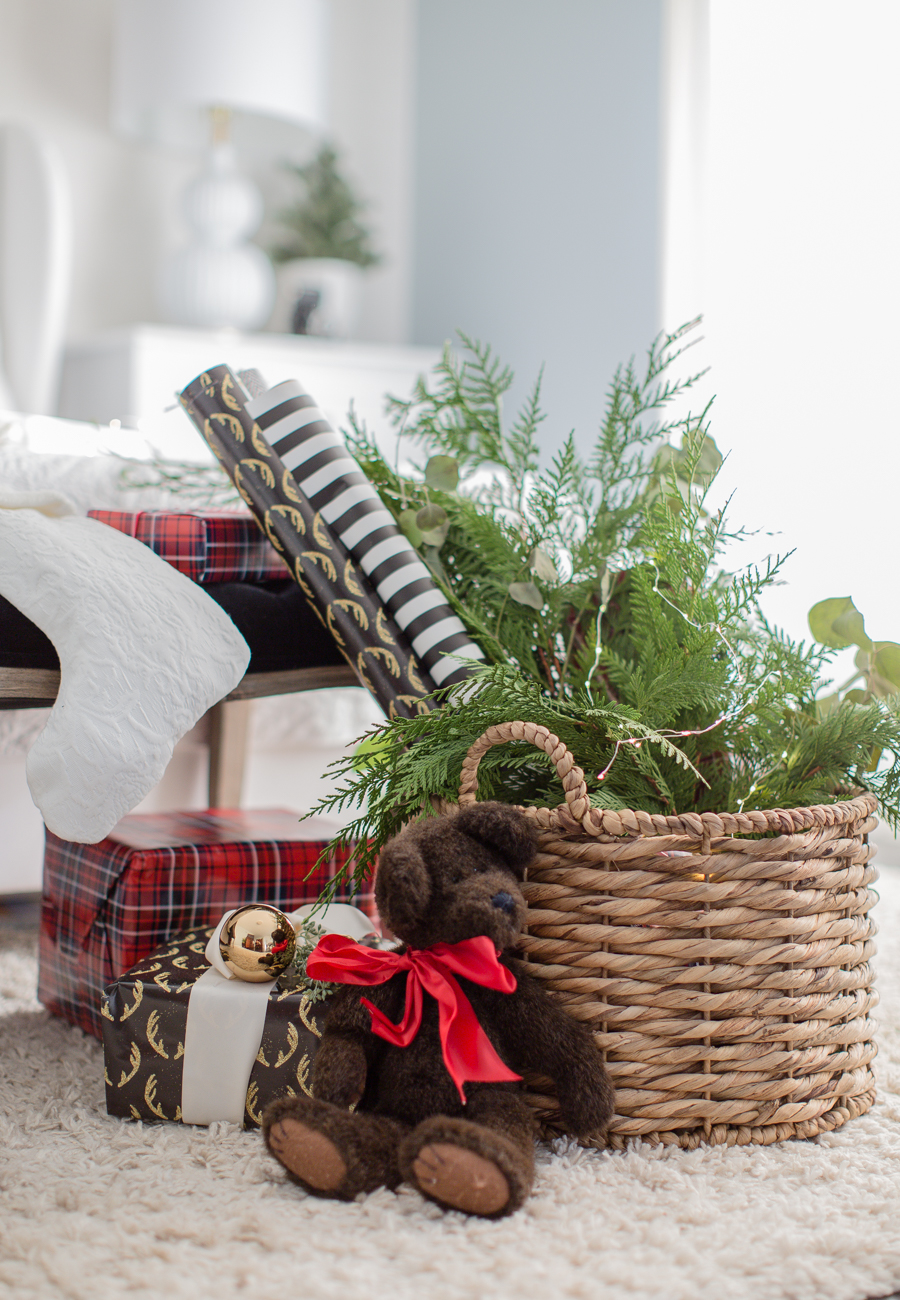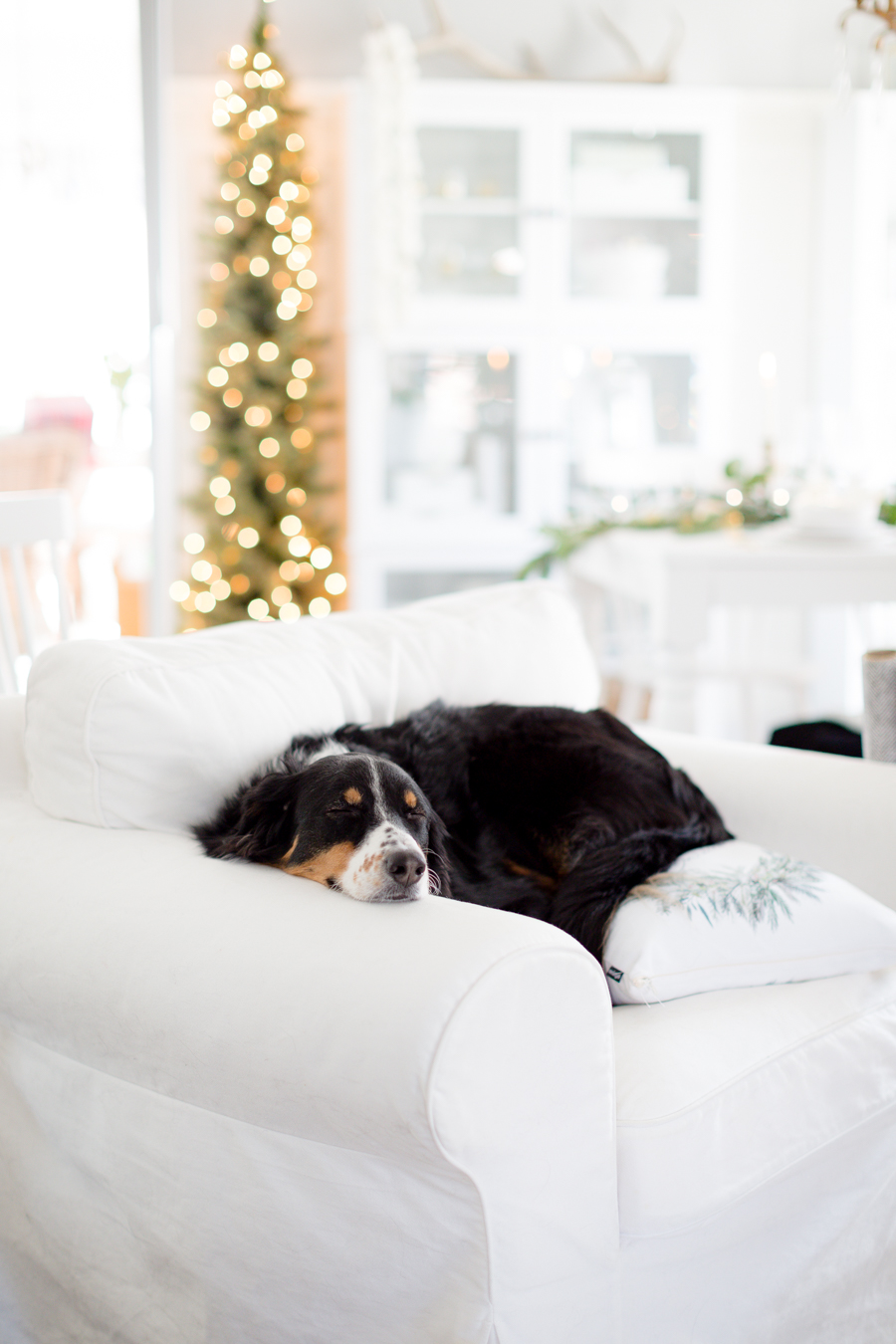 And there you go…a lot of change and maybe unnecessary extra work but I truly feel that the decor in your home needs to make you feel warm and happy. It has to suit your own style needs and of course,
season of your life.
I'd like to end this post by thanking you so much for your continued love and support and remind you that no matter whether you have a flocked tree, a real tree or a 'Charlie Brown' tree,
what truly matters is the love you put into your home.
This is such a beautiful season to love, cherish and truly find joy in the little things.
Please don't forget to visit my talented friends below. A big thank you to Shannon and Christina for hosting this tour. xo
much love,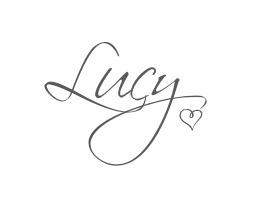 Monday
The DIY Mommy | The Creek Line House | Woman in Real Life | Life is a Party | Lemon Thistle | The Learner Observer
Tuesday

PMQ for two | Amidst the Chaos | Clean and Scentsible | A Burst of Beautiful | Rambling Renovators
Wednesday

Satori Design for Living | Love Create Celebrate | The Happy Housie | Craftberry Bush | Sustain My Craft Habit | House by the Bay
Thursday
VinYet Etc. | A Pretty Life | Home to Heather | So Much Better with Age | This Little Estate
Friday
AKA Design | Kim Power Style | Elliven Studio | A Pop of Pretty | The Sweetest Digs